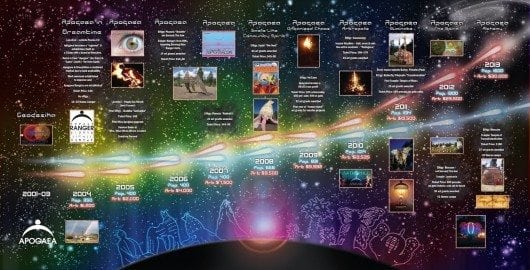 Apogaea began as a way to celebrate the Colorado Burning Man Community and has grown into its own entity. Through guidance from the 10 Burning Man Principles, Apogaea continues to thrive year-round.
Fun Facts
Apogaea was formed after the dissolution of Geodesika, a similar event inspired by the ideas of Buckminster Fuller
Approximately 40 interested people met multiple times in late 2003 and early 2004 to design the event known as Apogaea
In 2006 and 2012, extreme fire conditions restricted Apogaea from burning the effigy. In both cases (the Phoenix in 2006 and Blossom in 2012) the effigy was reused and burned the next year.
The management, staff and performers of Apogaea have been strictly volunteers, and never received any compensation for their time & effort
The biggest line item expense in Apogaea's budget has always been creative grants in support of art
The Westword did a story on Apogaea in 2005 titled Afterburn
---
The Founders History of Apogaea
This is a series of interviews done by our historian, Schmid-E.
---
Past Events
Here you will find links to information about past Apogaea events, such as art installations, theme camps, placements maps and so on.
Visit the following links to explore fun facts and details about each year:
Apogaea 2016
2001 – 2003 – Geodesika - Wellington Lake
---
The Census
Our Apogaea Census is an evaluation survey completed by participants. It helps us see where there might be areas of improvement and what we did well in a given year. The results, we hope, will allow us to see trends and changes in the community.

»Check out the Census page to see the results from past years
---
Afterburn Reports
The Afterburn Report is a detailed summary of the event in review.  You'll find financial and historical information, plus much more!