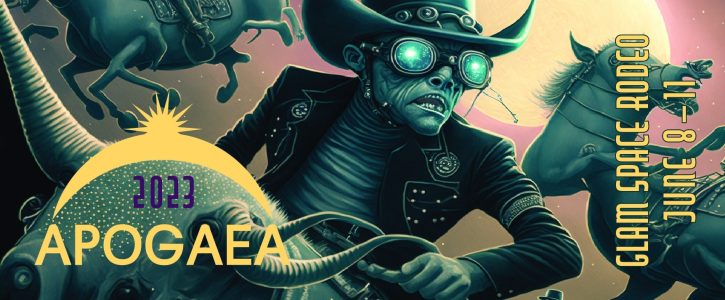 APOGAEA 2023: GLAM SPACE RODEO
June 8 - 11, 2023
The rodeo has headed off into the galactic sunset...
See you in 2024!
2023 IMPORTANT DATES

All ticket sales start at 12:00 PM MT!
Fri 3/24/23: Tier One Ticket Sale ($220) – SOLD OUT!
Fri 4/21/23: Tier Two Ticket Sale ($240)
Fri 6/2/23: OMG Ticket Sale ($275)
Every participant age 13 and over at Apogaea MUST have a ticket! Ticket revenue supports the infrastructure needed to safely bring the event to fruition and the grant money for approved art. Without a ticket, you will be escorted out!
Every participant at Apogaea MUST sign a Liability Waiver! Waivers will be available at the gate.  No need to print and bring one!
A guaranteed ticket for next year's event will also be offered to people who meet one of the following criteria this year:

Ratified Ignition member
Spark volunteer
A department directed ticket volunteer
Anyone who completes 1 volunteer shift with BAMF or Rangers
Anyone who completes a shift with hours between midnight and 8 am
Anyone who completes 8+ volunteer hours with any other department not previously mentioned
Ticket Prices (updated 2/27/23)
General Admission Tickets: Tier One $220 – Tier Two $240 – OMG $275
Scholarship & Youth Tickets: $50
Granted Artists/Theme Camp Leads: $220
Sparks Tickets: $120
Ignition Tickets: $60
Mission Control/Ground Control Leads: $40
Fire and Medical Volunteers: email

[email protected]

Children 12 And Under: Free – No Ticket Required
All prices are subject to transaction fees.
Guaranteed & Directed Ticket Info
All members of Ignition, Sparks and granted artists receive guaranteed tickets to Apogaea!
Ticket codes will be provided via email. Please be sure your contact information is updated with your department lead.
Ticket codes must be used by the date listed above in the "Important Dates" section.
Ignition members receive one ticket per person, not per role.
Artists, along with all assistants, volunteers, and work crews related to the art, are required to pay for entrance to the event. However, Apogaea will reserve either one or two full priced tickets for each granted artist, at Apogaea's discretion. Artists must purchase these tickets before the date listed above in the "Important Dates" section. Please refer to the creative grant funding page for the latest updates.
If you theme camp registers with Apogaea and you need directed tickets for your camp, please contact

[email protected]

.
2023 Scholarship Application is OPEN! Youth Ticket Info Coming Soon!
Discounted tickets are specifically set aside for community members who have fallen on financial hardships.
All scholarship recipients will be required to volunteer for six hours.
One application must be filled out for each person applying.
Please provide a description of why your economic situation warrants a low income ticket.
Discounted tickets are specifically set aside for Apogaea's youth (ages 13 through 17). Children aged 12 and under are free.
Please provide the name of each child, and which camp you will be camping with.
Please provide parent(s) names and contact information.
Please provide an off-site emergency contact.
Feel free to share any other relevant information such as medical conditions or special needs.