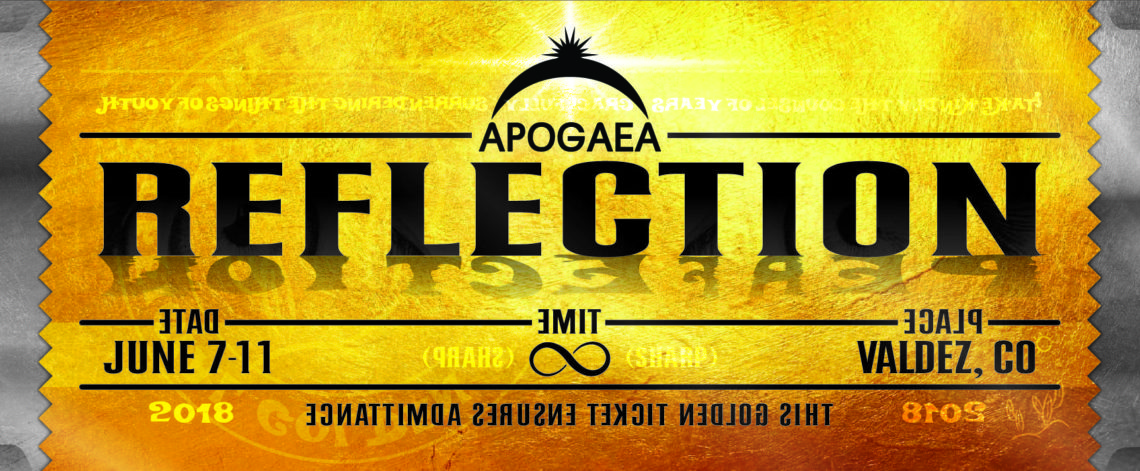 Congratulations to Alain Suel for his winning ticket design for Apo 2018!
Every participant at Apogaea MUST have a ticket! Ticket revenue supports the infrastructure needed to safely bring the event to fruition and the grant money for approved art. Without a ticket, you will be escorted out by either an ASS member or a Ranger.
Every participant at Apogaea MUST have a signed Liability Waiver! This waiver explains attendees' responsibilities and the inherent cautions & dangers of attending. Without a signed liability waiver, you will not be allowed to enter the event.
Round 1 & 2 ticket holders will be receiving paper tickets from TicketFly in the mail. OMG Round tickets will be available at the will-call booth only. Guaranteed/directed tickets for Ignition, Sparks, youth, scholarship, etc. will not be mailed; they will be available at the will-call booth only.
If you do not get a ticket in one of the main sales, DON'T PANIC! Anyone who signs up for two volunteer shifts will be offered a full price ticket(must be approved by department lead or ticket lead) ($150). Contact tickets@apogaea.com for further details.
A guaranteed ticket for next year's event will also be offered to people who meet one of the following criteria this year:
Ratified Ignition member
Spark volunteer
A department directed ticket volunteer
Anyone who completes 1 volunteer shift with BAMF or Rangers
Anyone who completes a shift with hours between midnight and 8 am
Anyone who completes 2 or more volunteer shifts with any other department
---
General Admission Ticket Prices
General Admission Tickets: $150
Children 12 And Under: Free
Prices are subject to transaction fees.
General Admission Ticket Schedule
March 15th at 7:00 PM: Round 1 general admission sales begin
March 25th at 1:00 PM: Round 2 general admission sales begin
June 1st at 7:00 PM: OMG Sale general admission sales begin
---
All members of Ignition, Sparks and granted artists receive guaranteed tickets to Apogaea!

Click HERE To Learn How to Join Ignition/Sparks!
Click HERE To Learn How to Apply for a Creative Grant!
Ticket codes will be provided via email. Please be sure your contact information is updated with your department lead.
Tickets are reserved for a limited time. After that date, any unclaimed tickets will be sold in the OMG Sale.
Ignition members receive one ticket per person, not per role.
Artists, along with all assistants, volunteers, and work crews related to the art, are required to pay for entrance to the event. However, Apogaea will reserve either one or two full priced tickets for each granted artist, at Apogaea's discretion. Artists must purchase these tickets before the listed deadline or they will be released for the OMG Sale. Please refer to the creative grant funding page for the latest updates.
Theme Camp Directed Tickets
If you theme camp registers with Apogaea, you will be contacted by the tickets lead to determine if your theme camps wants or needs directed tickets to cover essential people necessary to make your camp happen so that you can plan for the event and be assured that you have enough tickets. Generally camps are eligible for 5-10 directed tickets per theme camp, but this is negotiable. The ticket lead does not get the list of theme camps until after theme camp registration closes. If your camp needs to know about directed tickets before then please contact tickets@apogaea.com.
Guaranteed/Directed Ticket Prices
Granted Artists/Theme Camp Leads: $150
Sparks Tickets: $100
Ignition Tickets: $50
Mission Control/Ground Control Leads: $30
Prices are subject to transaction fees.
2018 Guaranteed/Directed Ticket Schedule
March 1st: Guaranteed ticket codes for 2017 volunteer service sent out
March 1st: Youth and scholarship registration opens
March 10th: Guaranteed ticket sales for 2017 volunteer service end at midnight
March 20th: Youth and scholarship registration closes
March 20th: Round 1 directed ticket sales begin, including artists' tickets
March 22nd: Youth and scholarship ticket awards announced
May 15th: Directed ticket sales end at midnight
---
Scholarship & Youth Ticket Prices
Scholarship & Youth Tickets: $80
Children 12 And Under: Free
Prices are subject to transaction fees.
Discounted tickets are specifically set aside for Apogaea's youth (ages 13 through 17) and for community members who have fallen on financial hardships. Children aged 12 and under are free.
Scholarship Ticket Guidelines
The deadline for scholarship requests is March 20th.
All scholarship recipients will be required to volunteer for six hours.
One application must be filled out for each person applying.
Please provide a description of why your economic situation warrants a low income ticket.
Scholarship Ticket Applications Open NOW! Click Here!
Youth Ticket Guidelines
The deadline for youth ticket requests is March 20th.
Please indicate how many children under 12 you are bringing and how many children between 12 and 18 years of age.
Please provide the name and the gender of each child, and which camp you will be camping with.
Please provide parent(s) names and contact information.
Please provide an off-site emergency contact.
Feel free to share any other relevant information such as medical conditions or special needs.
Youth Ticket Applications Open NOW! Click Here!
---
Souvenir art tickets will be included in the information given to each participant at the greeters station this year, thanks to a generous grant from Dr. Wilder which will be used to purchase souvenir tickets for everyone!
---
If you have a ticket to sell, or would like to buy a ticket outside of the schedule above, please email tickets@apogaea.com. Those wanting tickets will be matched with those selling tickets on a first come first serve basis.
---