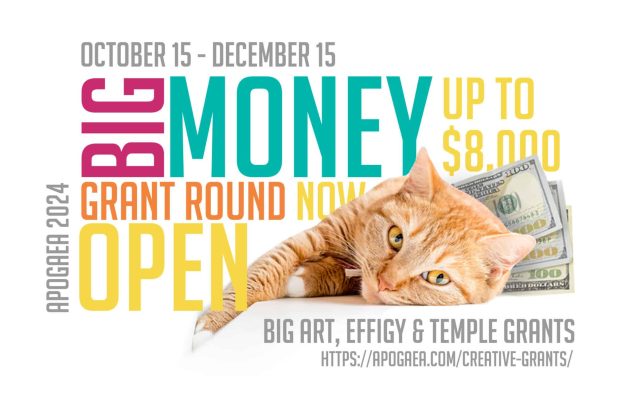 Apogaea 2023: This Year's Art
The Apogaea Creative Grant Program
Apogaea's primary goal is to maintain a community that cultivates interest in and pursuit of art, music, and artistic expression.  To help foster this creative community, each year, Apogaea returns a percentage of its ticket revenue to artists in the form of grants because we know it often takes cold, hard cash to make things happen.  Each year's event is seeded with creativity and artistic expression by returning a part of the event's ticket revenue to artists through the fair distribution of creative grants.  Grant funds can be used for almost any type of powerful and unique art including, but not limited to: sculpture, theme camps, sound camps, performance art, workshops, and mutant vehicles.  We encourage creativity regardless of the idea's size and scope by providing multiple grant rounds targeting different needs.  Even if you don't think of yourself as an "artist," but need some financial assistance to get your creative idea to Apogaea, we might be able to help.
CATS (Creative Art Team Support) is a diverse cross-section of the community that volunteers with Apogaea year-round by managing the grant process and artist support for Apogaea, Inc.  A Conflict of Interest Policy is in place to help ensure that when actual or potential conflicts of interest arise, the organization has a process to follow.  Anyone interested in discussing art and Apogaea is invited to fill out an application to join CATS.  In June, watch the website or your favorite source of official Apogaea news for the announcement that we're accepting applications.
Distributing a significant amount of the community's money to artists deserves a process providing 100% transparency.  The most current processes, policies, and grant related information are found on this page.  Each year, CATS provides a report describing the process, decisions, and disbursements in detail.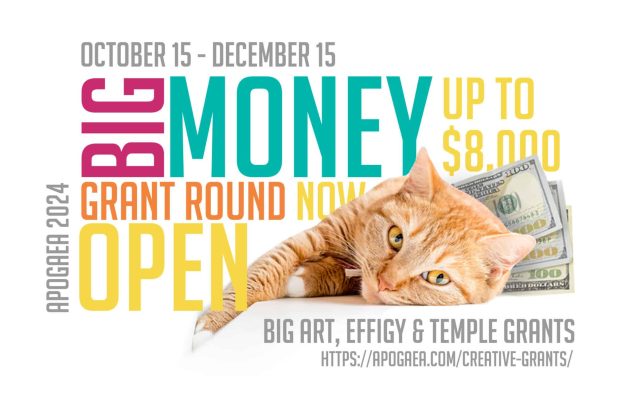 Interested in applying for a creative grant?  Get started by checking out what we have funded in the past.  That will give you an idea of what types of projects we have actually given money to, what information we will be asking you to provide, how detailed your answers should be, among other things.  We also provide some suggestions for grant writing success.
It is important to remember that we don't just give money to everyone that applies. Believe me, just dividing up the money would be a lot easier for everyone involved. Unfortunately, we receive requests for FAR more money than we have to give out which means we actually have to decline MANY, MANY applications.  In 2015, only 40% of applicants received a grant – we had to decline over half of the applications we received!  In the end, applications are weighed against others, ultimately being selected or declined by the entire CATS committee, each of whom has only a single vote.  Every application we receive is considered equally.
In general, grants are awarded to ideas/projects that:
Stand out from the other applications and are novel/unique
Are most likely to be completed and installed by the time the event starts, will be operational throughout the event, and will practice Leave No Trace when departing the event
Are interactive, engage a significant portion of the event population, and WILL BLOW YOUR MIND
Take Apogaea's challenging geography and fire bans into account
Are a good value for the grant money we are offering
Appeal to the majority of a dozen+ people sitting on the selection committee
Everyone is eligible to receive an Apogaea grant EXCEPT individuals or individuals belonging to these groups within Apogaea, Inc.:
If you have questions about the grant process, email [email protected] for assistance.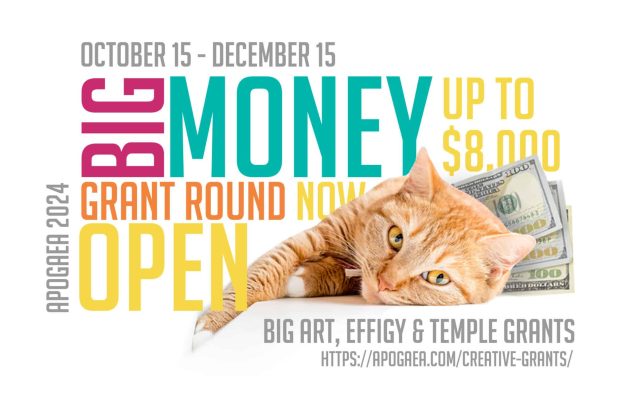 The current two-round grant scheme was implemented with the intent of supporting the opposing goals: "We should fund a smaller number of larger projects" and "We should fund a larger number of smaller projects."  The Big Money round was fully intended to support ambitious projects, and yes, that means fewer numbers of bigger pieces will receive grants. The Seed Money round was intended to fall more in the direction of the second point – supporting more smaller projects by new artists who are just getting started with their public art, or artists who just have simpler projects in mind.
Any grant amount greater than $1,500.00 will be paid in multiple installments based on successful completion of pre-defined project milestones. The larger the amount of the grant, the earlier you needed to apply for the grant. This allows Apogaea to divide the total grant amount into two or more payments that will be awarded upon successful completion of pre-defined project milestones instead of paying artists one lump sum payment and hoping they show up to the event 6 months later.
Do's And Don'ts For Grant Funding
Things that ARE NOT funded by Apogaea grants:
Apogaea tickets
Any intoxicants such as alcohol or marijuana
Anything illegal
Payment for artist time or for performers to appear
Gifts or swag

Camp infrastructure without a strong artistic component

Projects with applications that are not complete and received by the deadline – i.e. fully itemized budget, thoroughly thought out safety plans, detailed physical descriptions, etc.
Art not being shown at Apogaea
Anything that, in the opinion of CATS or the Apogaea Board of Directors, presents a safety risk to participants
Things that ARE funded by Apogaea grants:
CATS tries to keep an open mind when considering what is eligible for grant funds.  While basic needs/infrastructure like generators, domes, furniture, etc. are currently eligible for grant funds, it is important to realize that a grant for a new camp generator, or to fix your camp's broken shower, might not be as appealing to the majority of CATS as a grant to something that is more in line with what we have funded in the past.
Grant funds CAN be used for anything that is NOT specifically prohibited by the list above.  This includes, but is not limited to the following types of items:
Raw materials necessary to the construction or exhibition of the art including, but not limited to: wood, metal, fabric, glass, lighting, electronics, nails, screws, bolts, nuts, washers, adhesives, paint, wire, cable, tubing, stakes, decorative items, etc.
Consumable items that are depleted during the construction or exhibition of the art including, but not limited to: sandpaper, saw blades, drill bits, glue, paint brushes, propane for fire art used at the event, fuel for generators used at the event
Food and non-alcoholic beverages.  Any food grant is subject to the grantee complying with (and being able to demonstrate compliance with) all applicable state and local laws.
Project expenses such as warehouse/vehicle/trailer/equipment rental and fuel used to bring your project to and from Apogaea
Requirements for all grant recipients
Grant recipients are required to sign a binding legal contract that includes, but is not limited to, the following requirements for the grant recipient:
Project is complete and installed or ready to perform before the event opens through the end of the event
Pay for all costs to remove the project and/or restore the location after the event
Responsible for all project expenses
Ensure that the project does not pose unreasonable risk of harm
Supervise the project as needed

Indemnify Apogaea, Inc. from any claim of damages

Abide by instructions given by Apogaea, Inc.
Abide by any local fire bans
Respond to communications in a timely manner
Submit requests to vary the install date in writing at least 14 days before the event
Submit photos showing the project installed at Apogaea
Return the grant to Apogaea, Inc. if the project is not completed, installed, and/or performed at the event as described
Allow Apogaea to inspect the project upon reasonable notice
Report and pay any taxes on the grant
Additional Requirements for Effigy and Temple Grants
Apogaea awards grants for an Effigy and a Temple in the Big Money Round. If you feel that the Effigy or Temple is an important part of Apogaea, get your project idea and budget together and let Apogaea help you fund it!
There will be no ember producing fires allowed at the venue. We are open to ALL ideas, especially those addressing Colorado's climate and event location in a creative way, including, but not limited to, propane art, smaller burnable sub-structures, art that breaks down to a small storage footprint, performances, creative lighting, or basically ANYTHING that isn't just a large wood structure we won't be able to burn.
Effigy and Temple Teams and any other fire art teams are responsible for:
Keeping fire in allowed fire areas. This is subject to change every year.
Reading the Apogaea BAMF Fire Art Guidelines.
Providing a detailed burn plan (please request template) that answers questions like: How will your burn progress from beginning to end? How and where will you store the fuel/flammable materials? Where will fire suppression equipment be located?
Providing a detailed contingency plan that answers questions like: How you will handle burn restrictions?
Coordinating with the Rangers, BAMF, Fire Performance Leads, and any other Ignition Leads necessary to establish a coordinated burn plan and burn perimeter.
Providing your own lights, generator, and fuel for lighting the project at night.
Effigy and Temple Ownership
This is subject to change every year. In the past, Apogaea has mandated that Effigies and, in some cases, the Temple, be treated as commissioned art that is owned by Apogaea. Now, and in the interest of opening the Temple and Effigy application process to a wider variety of projects, Apogaea requests that you propose, as part of your application, whether you envision owning the Temple/Effigy upon completion and what you envision being done with it (should it be burned, stored by Apogaea and brought back for future years, taken to another event and burned, etc.?) and how you plan to address the logistics involved. As with all aspects of your proposal, Apogaea may negotiate changes to your preferences. The final project, as mutually determined by you and Apogaea, will be reflected in a written contract before the grant is awarded. In all cases, the artist will be responsible for transporting their project to the Apogaea event in June and setting it up.
If you are selected to build the Effigy or Temple, before the grant is awarded, you must negotiate ownership of the art with the Apogaea Board of Directors. Because the art cannot be burned, someone has to take ownership of the art and remove it from the land, store it, and possibly bring it back the following year.
Frequently Asked Questions (FAQ)
| Year | Total Grant Budget | Total Funds Requested | Previous Year's Gross Ticket Revenue | Grant % Of Revenue | Applications Received | Grants Awarded |
| --- | --- | --- | --- | --- | --- | --- |
| 2004 | $1,200.00 | | | | | |
| 2005 | $2,000.00 | | | | | |
| 2006 | $4,000.00 | | $10,650.92 | 37.56% | | |
| 2007 | $7,500.00 | $22,285.00 | $22,621.61 | 33.15% | 33 | 21 |
| 2008 | $9,500.00 | $24,000.00 | $18,897.00 | 50.27% | 34 | 24 |
| 2009 | $9,932.00 | $20,885.00 | $42,106.54 | 23.59% | 33 | 32 |
| 2010 | $13,535.00 | $23,250.00 | $44,263.68 | 30.58% | 31 | 28 |
| 2011 | $19,500.00 | $103,488.00 | $61,103.39 | 31.91% | 48 | 28 |
| 2012 | $23,000.00 | $134,709.00 | $81,265.48 | 28.30% | 61 | 23 |
| 2013 | $30,000.00 | $86,609.21 | $97,960.00 | 30.62% | 59 | 37 |
| 2014 | $50,000.00 | $249,101.10 | $153,753.17 | 32.52% | 144 | 39 |
| 2015 | $55,000.00 | $216,223.72 | $222,719.05 | 24.69% | 33 | 22 |
| 2016 | $12,000.00 | $15,426.19 | $100,000.00 | 12.00% | 33 | 22 |
| 2017 | $60,000.00 | $170,408.04 | $204,775.00 | 29.30% | 68 | 29 |
| 2018 | $42,000.00 | $82.509.36 | $197,018.00 | 21.32% | 49 | 27 |