What is the Effigy?
In the tradition of Burning Man, the culmination of Apogaea is an effigy burn. The e
ffigy can be anything you can imagine built out of burnable materials. In recent years, we've burned a Phoenix, a Squid, a Volcano, a free-form structure made up of smaller pieces decorated by the community, and an incredibly beautiful butterfly emerging from a chrysalis.
The effigy is a celebration of community. We help build it, gather around it, watch performances involving it, burn it, and dance to its warmth. There are no real parameters to the project except that it be of significant size and burnable. If you are interested in building the Effigy, please visit the Effigy Proposals page.
---
2017 Effigy
$8000
Heart of Gold (Effigy)
Collaborated by:
Jed Winters of Fe Fabrication
Mark Switzer from Mischief Lab Fire For The Arts
Brad Allen from Present-Teck Labs
Jules Pellerin from Camp Wardrobe MalFUNKtion
Heart of Gold is a beautifully profound sculpture with several advanced flame effects (and surprises) for the 2017 Apogaea Effigy. Heart of Gold will be a collaborative piece of art, allowing community members to get involved in creating and operating the piece, offering opportunities for both new and experienced artists to learn more about the fire arts and fabrication skills. The core sculpture of Heart of Gold is also a gift to the Apogaea community and will be left in the care of Apogaea to use for future events as desired.
https://www.facebook.com/mischieflab/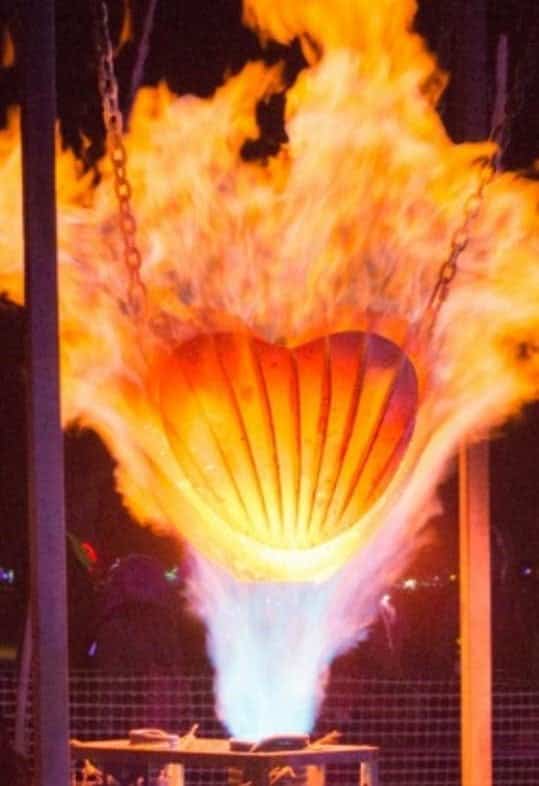 ---
Previous Apogaea Effigies
Syzygy: The Library Angel (2015)
T.O.T.E.M. – The Throne of the Emergent Multitude (2014)
Blossom (2013)
Blossom (2012) (not burned because of fire ban)
Butterfly/Chrysalis "Transformation" (2011)
Communigy (2010)
VolCano (2009)
Squid "The Next" (2008)
Phoenix (2007)