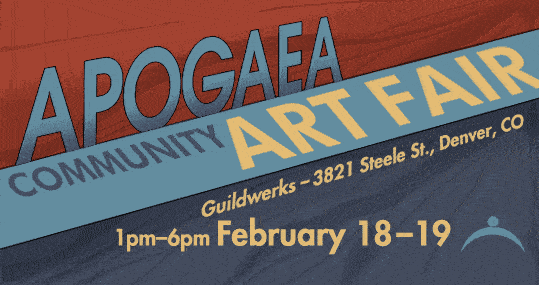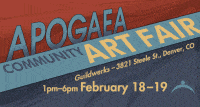 Date: February 18-19, 2012
Time: 1pm – 6pm
Location: Guildwerks
3821 Steele St., Denver, CO
At its core, Apogaea is an art festival – celebrating the uniquely human ability to create an environment that evokes an emotional response from others in the community and encourages them to participate in the experience.  "Art" is defined as, but is not limited to: theme camps, sound, installations, performances, workshops, mutant vehicles, or simply a creative idea that will improve Apogaea.  This inaugural event hopes to bring the artists and community together to promote art at Apogaea.
What the Apogaea Community Art Fair is:
A way for artists, theme camps, sound camps, workshops, or any other person or group dedicated to making Apogaea better to engage the community to solicit volunteers, materials, work spaces, funding, or anything else they feel will make their project a success.
A venue for connecting community members wishing to provide financial contributions, volunteer time, etc. to artists seeking these things.
A way to reduce the over-saturation of the community stemming from having too many fundraisers in a short span of time before the event.
A free/no cover, all-ages event.
What the Apogaea Community Art Fair isn't:
The Art Fair isn't a party.  Think of this as a forum in which artists may engage the community to promote and grow art at Apogaea.  It isn't an opportunity to radically self-express yourself by getting wasted.
The Art Fair isn't a way to completely replace all fundraising by the artist.  It is still the responsibility of the artist to organize volunteers, acquire materials, raise funding, etc. as required by their project.
How to participate as an artist:
Since this will be the inaugural event, a Facebook group has been created for those who wish to participate to help answer questions and/or make suggestions.  It is highly suggested you join this group if you wish to participate as an artist.
Although not required, it is suggested you provide ways to engage the community.  This can include providing project budgets, detailed construction plans, schwag, volunteer sign-up sheets, or anything else you feel will help explain your project to the community.
If you are planning on accepting money to help fund your project, it is suggested that you have a way to do this before coming to the event.  Suggestions include kickstarter.com, paypal.com, or wepay.com.  There should be wireless internet available at the venue to make this possible, but do not rely on this.
How to participate as a community member:
Just show up to the event and engage the artists!  We anticipate having a number of artists who need things like volunteers, materials and even funding.
You can find the most current information on the Facebook event page.
Additional event details:
Neither Apogaea, the Apogaea Community Art Fair, nor the event organizers are responsible for any monies/materials/agreements made at this event.   All donations are made at the discretion of the contributor and between the contributor and the artist.
Artists will be allowed to solicit volunteers, money, materials and/or anything else they feel is necessary.  This is a way to raise funds that generally aren't covered by the grant process such as fuel, infrastructure, tools, transportation, etc.
Artists will be provided with a space within the venue they may use to display mock-ups, drawings, literature, schwag, and most importantly, INTERACT WITH THE COMMUNITY.
Important links:
Apogaea Community Art Fair Facebook event page:
https://www.facebook.com/events/307392899304901/
Apogaea Community Art Fair PARTICIPANTS/PLANNERS Facebook group:
https://www.facebook.com/groups/159822990784955/
The list of participating artists and workshop schedule have been posted:
https://apogaea.com/2012/02/13/apogaea-community-art-fair-and-mini-town-hall-this-weekend/