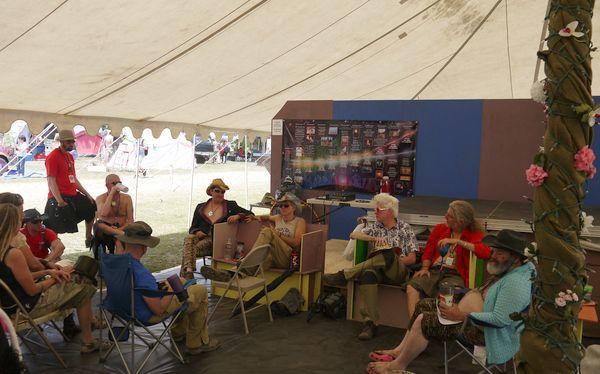 WE WANT YOU at Apogaea CENTER CAMP!
Register your Center Camp activity today! Here are some IDEAS of fun activities/shows that you could offer to your fellow Apogaeans:
Workshops
Poetry Jam
Showcase your AMAZEBALLZ talent
Drum Lessons (or any instrument!)
Belly Dance Show
Book your band to play ( We prefer bands and not DJs )
Dance Class
Virgin Apogaeans Welcome Event
Spank a Board Member (Past or present)
Yoga
We're also looking for art to hang on Center Camp walls. If you have an EXISTING piece you'd like to share, please complete the form below. We don't want any bare walls, so submit your registration for artwork ASAP.
**ALL APOGAEA CENTER CAMP PERFORMERS AND ARTISTS MUST HAVE A TICKET PURCHASED** Sorry, but there are no tickets available for individuals performing or showcasing their art at Center Camp.
Now get CREATIVE! Write and let us know what you would like to do. Keep in mind the schedule is filling fast, so the sooner you submit your application, the better! Please visit and 'LIKE' our Center Camp Facebook page: https://www.facebook.com/ApogaeaCenterCamp
We look forward to having you at Center Camp this year!
 »Center Camp Orphan Performance Registration Form
»Center Camp Art/Display Form