So you want to volunteer at Apo…now what?
Lovelies!  Art here to give you the low-down on volunteering.  It's with my pleasure to announce:
VOLUNTEERS WILL EARN EARLY ENTRY this year!  Early entry is on Tuesday, June 4th.
We have 1200 shifts to fill this year, so you can imagine we need all the help we can get!  So far, we have had a little less than 31% of the shifts taken, so please sign up and encourage your friends…each volunteer plays a part in the success of our beloved Apo.
Some of you may have some question about how to get started.  Please read on for some guidance.  Thanks to Bug Barbeque and his hard work on the Volunteer Database, it's pretty easy to sign up to volunteer!
---
1. Purchase Ticket to Apogaea
First thing's first.   If you're not a ratified member of Ignition, then you've surely already purchased your ticket from Brown Paper Tickets! YAY!  We're excited to see you!
If your an Ignition Member, a scholarship recipient, or have a reserve ticket and haven't purchased your ticket, please read below under the SPECIAL INSTRUCTIONS section.
Upon  ticket purchase, you received an email confirmation that included a ticket number starting with the prefix "#" or "#A" and is followed by an 8-digit number:
Example:
Ticket 1 (#A12345678)
This 8-digits after the "#" or "#A" will be used to create an account for the Apo Volunteer Database.
2. Use Your Apo Ticket Number to Create an Account in the Volunteer Database
Now that you have your ticket number, start by going to the

Apogaea Volunteer Database

 

Create your account (you'll see the option on the main page of the database link above)

This is where you'll need the 8-digit number after the "#" or "#A" that is your ticket code from Brown Paper Tickets

 (see photo)

Select your desired shifts once you get logged back in after creating your account

 
3. Sign up for Shifts that Require a Special Authorization Code
Certain shifts do require SHIFT AUTHORIZATION CODES. They are indicated by being Orange rather than Tan in color. These shifts are usually:
Leads or daily shift leads

Shifts that require training or verification of certifications, such as Rangers, Fire or Medical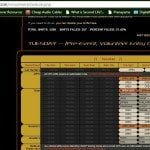 The department leads have these codes, so you'll need to contact your respective lead to get the authorization code for that shift you want.  You may need to meet whatever criteria is required for the role.  Your department lead will instruct you (see #4 for contact info).
A.) Once you're signed into your volunteer account on the database, you'll notice the Orange oval shift 'buttons'.
B.) Now that you have your authorization code, just click on the Orange shift button that you want and it will take you to a page that asks you to enter your shift authorization code.
 4. Department Lead Contact Information
ASS (Apogaea Security Squad):  [email protected]
CAT HERDER: [email protected]
CENTER CAMP DAILY LEAD: [email protected]
CENTER CAMP CAFE: [email protected]
CENTER CAMP PERFORMANCES: [email protected]
CONVERGENCE: [email protected]
DE-GREETERS: [email protected]
DPW: [email protected]
EXODUS: [email protected]
FIRE SAFETY: [email protected]
FLOATERS: [email protected]
GATE: [email protected]
GREENERS: [email protected]
GREETERS: [email protected]
INFO BOOTH: [email protected]
LAMPLIGHTERS: [email protected]
MEDICAL SUPERVISOR, PRIMARY, and SUPPORT: [email protected]
PARKING: [email protected]
PLACEMENT: [email protected]
RANGERS and RANGERS IN TRAINING: [email protected]
SIGNS: [email protected]
You can check out our current Org Chart to see the "big picture" of who's who and how positions are all connected!
5. SPECIAL INSTRUCTIONS

TICKET CODE TO PURCHASE FROM BROWN PAPER TICKETS
As you lovelies probably know, in order to purchase any special tickets like Ignition, scholarship and reserve tickets, you need a BPT "Ticket Code."  Reserve ticket holders should receive a ticket code from your department lead (see contact list above).
Once you use that code to get your Apo ticket, you can follow the instructions above.
TEMPORARY IGNITION TICKET NUMBER FOR VOLUNTEER DATABASE
Are you an Ignition member who hasn't purchased your ticket, but want to sign up for a volunteer position to get the best pick of shifts?
You can request a temporary Ticket Number from Bug Barbeque!  But the request needs to be sent from your Ignition(@apogaea.com) email address.
 ♥ ♥ ♥ ♥ ♥ ♥
That should be it!  If you have any questions or volunteer database problems, please email Bug at [email protected].