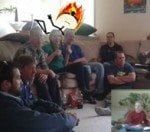 Hello faithful Apogaeans. Art here, back from a busy, distracting couple of months just in time to bring you all the crucial pre-event info. Sunday, May 13th was the last board meeting before the event and all the details are falling into place! There were 20 items on the agenda this month so I'll try to concisely summarize. In attendance at the board meeting were all four officers, eight board members, six additional Ignition members, one Burning Man Regional Rep, and four community members.
Retreat Recap
President CANO reviewed the Board and Ignition retreat. It was an awesome, spiritual team building experience. Ignition members reviewed responsibilities of the event, BAMF conducted a 2 hour training and covered the emergency evacuation plan, Rangers gave a training and gave us tools to calm situations down, the lasagna was delicious, and everybody walked on hot coals.
Open Ignition Positions
IMPORTANT! There are some new Ignition openings that ideally we would like to fill BEFORE the event! If you want to get more involved in Apogaea, here's your chance! Apo is looking for:
Lamplighter Assistant (2012)/Lead (2013)
Placement Department Lead
Placement Daily Lead
Treasurer Assistant
Nate Harris and Sparky were ratified as new DPW Dics of the day and Steve Merager was ratified as a new Treasurer Assistant.
Center Camp
There was discussion about the Center Camp Café and whether to make a lead position for the person running the café. The board decided that, for now, the café should remain a community-driven effort. To find out more about what's going on at Center Camp this year, be sure to check out Amelia's blog post.
Sound Policy
Kingpin and Michael presented this year's sound policy. They are focusing on placement more than rules so that we can have loud areas and quiet areas at the event. There are two important changes this year:
Subwoofers must be placed on an above ground platform to control the spread of sound.
Large sound camps must bring a microphone and show that it works so it can be used as part of an emergency notification system.
This year we have 4 large sound camps, 8 medium sound camps, and 20 small unregulated camps that include some amount of sound.
Work Weekend
Work weekend review – Ignition and BAMF members should RSVP for work weekend individually, for theme camps they RSVP together as a group. The food budget for work weekend was discussed. Bobalicious is in charge of the big meal and he will keep costs at a minimum. There was discussion of how many people are allowed to come for work weekend. Everybody who comes must have a specific reason why they need to be there.
Early entry
Wednesday early entry will be regulated. If you are registered in the volunteer database for a shift ON ANY DAY or you are an Ignition member you will automatically be granted Wednesday early entry. Preregistered theme camps were allowed to request early entry for up to four members of their team.
Charitable donations
Apogaea donated $1000 to the Bailey Fire Department. We really want to keep those guys happy.
Non-perishable food drive – Apogaea will be conducting a non-perishable food drive at the event this year. We are soliciting donations of canned food (on the way in) or extra food (on the way out) for donation to a Bailey area food bank. We believe this would be a very effective way for Apogaea and its community to give back to the local area that has allowed us to hold our event for many years.  As we attempt to grow the event, the goodwill of the community will be an increasingly important factor.
Detailed pre-event items
Road work – Contracts are in place and road work has been started.
Schwag – There will be lots of cool schwag for volunteers this year, including carabiners, stickers, and stainless steel coffee mugs. The schwag proposal was approved as presented.
Map – There will be a detailed map available at the gate.
Firewood/propane – there is a $1000 budget for firewood and propane.
Board member on-duty shifts – there will be a board member on duty at all times during the event (including overnight shifts). There will also be a board member at the gate at all times during entry to handle any ticket misunderstandings. Please don't be difficult, but if you have a problem know that a board member will be available.
Security guards – there will be a security guard at the gate from sunset to 9 AM. The board voted to give the security guards a small raise.
ICS training video – slide presentation. Cyn is producing a video with important emergency training information. Eric will be community liaison in case of an emergency situation. (ICS lead role). Your BAMF team is prepared!
Rental Vehicles – There will be a few official Apo vehicles driving around at the event
Parking Shuttle – Important paring information here! When you arrive at Apo you will be able to drive in close to your camp to unload (BUT YOU MUST STAY ON THE ROAD). After you unload your vehicle, one member of your group will drive to the parking lot. There will be a shuttle (mini van) driving between the parking lot and the gate to bring you back in.
Honey Badger (the BAMF van). Your medical and fire team needs to be able to get around. 'Nuff said.
Pickup trucks for Rangers.
Shade structures – The board took an inventory of Apo's shade structures which will be used for gate, greeters, info booth, and fire convergence. BAMF bought their own shade structure for this year
Financials
There were lots of details about the budget. Art dozed off. There is an idea to create a finance committee for next year to provide more financial oversight. This discussion was tabled until after the event.
Apogaea will produce an after burn report detailing all the stuff we bought this year, what all the departments did, where the money went, etc. Art volunteered to assemble this information and get it to you after the event. You're welcome.
The next board meeting will be July 8th in Denver. Matt will verify with Meg that the Fusion Factory is available.
That's all, for now. T minus 14 days to Apo!
Until next time, Flaming Art is putting out.