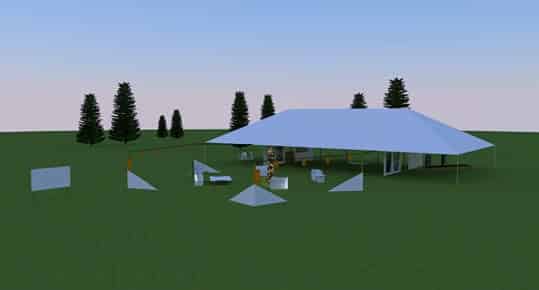 This message is a call out specifically written to you! (Yes, you, the one reading this.)
The Apogaea Center Camp is a hub that's built for your enjoyment, by you. It's a blank slate for you to draw on (literally!) It's a representation of our community and the special brand of snarky magic we have to offer.
That's why we on the Center Camp team are reaching out to you! We need you to bring yourself to the party, along with all the accoutrements.
Get involved! Here are a few ways you can get your participation ball rolling! Just don't be shocked if when it stops rolling, it wakes up naked in the middle of Dirty Hooker Camp.
Give us all your moniez!
The Center Camp Kickstarter may have hit its original goal, which covers essentials such as lights and construction materials, but that original goal ultimately only pays for a portion of what we need to transform the space into something genuinely useful. We're currently at about $1,500 pledged (thank you so much to everyone who has contributed!) But we need to hit $2,000 to have  things like proper seating in place – things you in the community has specifically told us you want to see! So, if you haven't yet, pledge to our fundraiser soon (We only have about a week left!)
Leave your mark
This year will be the first that we feature "the fence." The Black Rock City Cafe has a fence – a wall of murals – but the work displayed is limited to that of artists selected by the Burning Man LLC.
Instead of only allowing a select few artists create our fence, we invite anybody and everybody wanting to add their special touches to the series of four triangular, wedge shaped murals. The end result should be a unique fingerprint of this year's specific community.
Be sure to bring paint, markers, and other non-moopy materials to decorate the fence with!
Bring your art
Center Camp has added new walls to accommodate hanging art pieces. Sculptures, both large and small, are also always welcome. We don't care if you think that you suck as an artist, or you're an ego-driven maniac.
Show your work off!
Lend a hand
Pick up an official Apogaea Center Camp volunteer shift and get early entry! Center Camp volunteers will be helping performers, keeping the flame alive, and helping the various groups who working inside the tent. It should be hopping!
Get early entry by volunteering!
Sling Caffeine
The cafe that will be located within Center Camp this year is still looking for two to four volunteer baristas–no experience required! But, if we run out of shifts before you can grab one, there will  also be a donation tin out. So, consider leaving a few dollars to cover next year's supplies.
Jeez! Is the Center Camp team even doing anything?
YES! Jeez. Don't be so snarky.
Below, we're including a preview from our Center Camp Build Blog. If you've backed the Center Camp Kickstarter, you've already gotten access to it. This is where we show off the work we've been doing and give status updates. It's a perk given exclusively to those who back our Kickstarter project.
Get Build Blog Access!
Center Camp Build Blog: Howdy, Everyone!

The Center Camp fundraiser may still be going on, but that doesn't mean we can't burn borrowed money as quickly as possible!

Prologue

Very little sleep. This won't be pretty, and it may not make a whole of of sense.

Chapter 1

This last weekend, we started making purchases using Amelia's emergency cash-stash. (Only 28 days until Apogaea! Panic!) We're pretty confident that with the help of burners like you, the funding for Center Camp will come together without issue.

Anyway, last weekend, right. It went a little something like this…

First, Amelia and build team member Liese Lemay traveled from Denver to Boulder.

Liese being snarky

In Boulder, we were able to secure about 10 gallons of mis-tinted paint for free from the very nice folks at Diamond Vogel. From there, we went to the Phoenix Asylum to meet Jasmine and get our first look at the new stage and the whiteboard (that will become the Center Camp sign.) In short: that whiteboard is gigantic. Neither of the two pieces fit in our tuck. But, don't worry. We'll be back.

Off screen: even more paint.

The next stop was the Home Depot in Fort Collins, where we picked up all the plywood and lumber that we should need for Center Camp. It was a lot. The cart-thing was hard to push. >_>'

She's laughing. But, in her mind, she's wishing Amelia would put down the camera, and get back to helping load the cart.

OMG! Look you guyz! Stuffz!

29 sheets of plywood and some assorted 2x4s later, we imagined the truck would be pretty full up with these just items. So, we decided to blow that Popsicle…. stand. (What did you think we were going to say?)

Liese works on loading the truck. Amelia takes more pictures.

From that point on, it was a race against the impending rain clouds. A very slow race… we didn't want to lose the load. Also, people don't like the slow truck.

Oh, also, there was coffee. We aren't good at winning races. :\

Super moon and storm clouds rise ominously.

We got to the fabrication shop in Eaton just in time to drop our load off in the rain and hail. Don't worry though, it's all protected and waiting to be cut up. Then, we'll put it back together in odd ways! It's downright deviant and masochistic, really.

Aside

We're also working on getting all of our internet ordering completed. We have some outdoor flood lights that already arrived. And, the tankless, propane hot water heater is on it's way!


Next Weekend
Construction begins!
Thank you all for your support and we'll see you at Center Camp in just a few weeks!
~Your Center Camp Infrastructure Lead, Amelia Graycen