Apogaeans!  We are excited to announce this year's Effigy, Temple and Big Money art grant round recipients.   We received 16 applications for consideration and CATS has funded 10 of those. In total CATS is distributing $30,710 this round to help make the art you see below happen.  
---
Draco's Nest – $9,00 0 (Effigy)
Artists: Gammaspace
About: Draco, the dragon slain by Minerva in the Titan War, has fallen from the heavens and been buried over countless decades. Draco's nest is the only remaining relic of this majestic celestial being. Though he has been nearly forgotten, the spirit of Draco returns for one final flagrant spectacle. Draco is a dazzling constellation that can be seen in the Northern Hemisphere in the summer. Once designated the north star, the brightest star in the constellation is coincidentally called Gamma Draconis! Draco's nest abstracts one of the most classic representations of fire, the dragon to celebrate our deep connection to the element. Our Effigy is both warming and inviting space with the thrill and epicness of fire in 360 degrees. Here, Draco has many surprises in store with evolving pyro performances planned, building up to a grand effigy performance on Saturday night.
www.instagram.com/gammaspaceart
---
Temple of Death – $2,892 (Temple)
Artists: Mitch Hoffman, Jake Woerner, and Jacob Bohlen
About: The TEMPLE OF DEATH will be a meditative space for participants to ponder mortality, entropy, and their time on and relation to the earth. It will consist of a central, shaded pergola structure and outlying totems, spires, and mounds of bones and antlers. The pergola will be decorated with bone and antler and will be aesthetically representative of the sun-bleached high desert locale that has been a home to Apogaea these last few years.
https://www.facebook.com/coolartdotcom/
---
The Phoenix and The Butterfly – $4,000
Artists: Swig Miller and the Creators
About: The Phoenix and The Butterfly provides a framework for people to explore the metamorphosis of the feminine and masculine, both in terms of where we are and where we'd like to end up.
This piece consists of larger–than-life butterfly and phoenix sculptures. These two sculptures represent the polarities of feminine and masculine energies. The butterfly stands 8' tall and 12' wide, made from fire painted acrylic, wood and steel. Hundreds of LED lights will illuminate the wings from inside creating an effect like sunlight through a stained glass window. The phoenix is equal in size, crafted from thousands of hand made copper feathers. At night it is ignited, becoming a huge flaming bird, shining brilliantly in the night sky.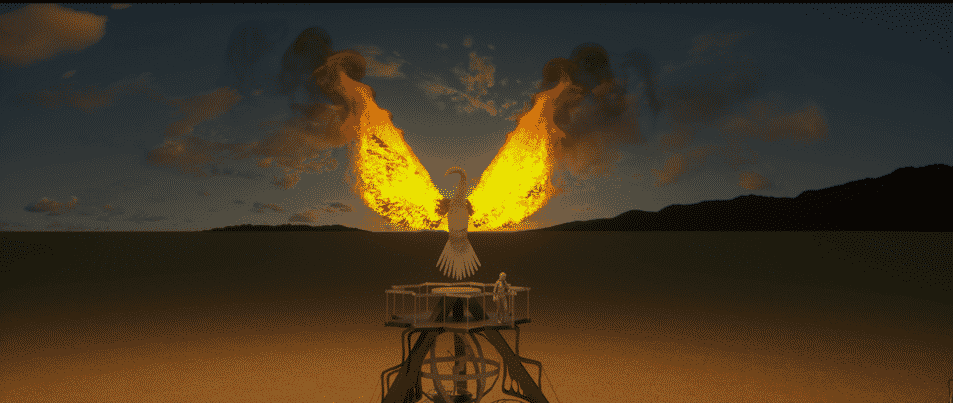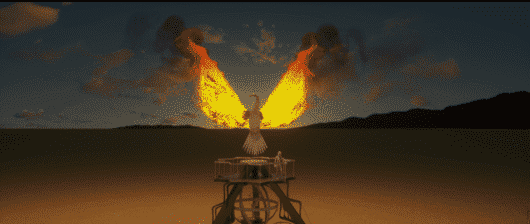 We are at a point in history of accelerated change where the feminine and the masculine are redefining themselves. This change can happen unconsciously or we can add positive energy to affect the direction of this metamorphosis. The Phoenix and The Butterfly bring us fire and light, both are symbols rooted in many ancient cultures and provide for us a place to play, to create, to connect, and to usher forth a new age of humanity.
---
Zabiti: Under the Rusalka's Pond – $3,993.00
Artists: Rainbow Militia and the Unbuilt Library
About: Deep within a cursed pond, a water spirit resides. This place is calm and full of light and music, but the curse holds the spirit trapped and unable to leave. Step into her world, sit with her a while, listen to the music and watch the magic flow through the fauna around you. Or, embark on a quest set by the spirit to retrieve magical items that can cause great joy. Decorate a wish stone to take with you, or contribute to a communal art mosaic. A connection made between you and the world can change the atmosphere, a story shared and a wish freely given could rekindle some of the joy. Together, we can all help break the curse.
---
Fire Sculpture Garden – $3,550
Artists: Musselph LTD
About: Musselph's Fire Sculpture Garden will bring all of Musselph's current fire pieces, one new large feature, and several new supporting pieces. Using multiple propane fire effects and music, we will create an environment specifically to invite calm, tranquility, contemplation, and a space for warmth and connection with others.
Strictly Platonic" is an exercise in balance and simplicity on the surface, and a complex exploration of cosmic, universal themes after greater reflection. The platonic solids correspond with focal points in the human body where we receive, hold, and outwardly radiate the creative energy, unconditional love, and life force of our interconnected existence with all things. It is an interactive piece which blasts huge plumes of flame into the sky while creating echoing booms. At the base of the tower is a large flower of life fire pit.
"Perfect Heart" is a reflection on the form and function of our physical and emotional hearts. Comprised of two anatomical hearts joined together to create the classic Valentine heart symbol of love, Perfect Heart is crafted in a style referred to as "patchwork." This technique utilizes random, hand cut pieces arranged in a type of three-dimensional mosaic, resulting in a patched-together finished look. Perfect Heart is a contemplation of the idea that the most suitable vessel for loving others and oneself is actually one that has been broken and patched back together innumerable times.
"Paphiopendulum" is an exploration in balancing the delicate and the powerful, juxtaposing organic and geometric beauty, and expanding into unknown territory with grace and tenacity. This large centerpiece sculpture will incorporate various elements of interactivity and flame powered movement into a dramatic sculptural depiction of orchids. This work will be built for and first exhibited at Apogaea 2019.
---
Angler Fish of Lost Souls – $2,000
Artists: Waffle Cone Club & Meowjie
About: We are creating a mobile angler fish mutant/demon cart that will contain The Goddess and be pulled by the Ferry Man. It will hold a phone charging station in the fish's tail, and will provide a resting place for the lost. This will be a place to contemplate and pay tribute to those that are lost or have been lost. The Angler fish will be covered in vinyl skull shaped scales, LED/black lights, and an illuminated orb dangling over the fish's head.
https://www.instagram.com/zipper_belly/?hl=en
https://www.instagram.com/meowjie_/?hl=en
www.kvsinger.com
---
The Tesseract – $1,800
Artists: Apollo Colorado Ltd.
About: The Tesseract draws inspiration from the hyper-cube 4 dimensional shape where all vertices are equal and all angles are 90 degrees. Imagine a 3D Cube made of LED walls. This cube is balanced on one corner so that it spins freely. The 4th dimension in this case is time; expressed as both physical motion of the object and inferred motion of the generative animations that dance across all its surfaces. It is Kinetically interactive whereby as it slowly spins, the exact orientation is fed into a custom software program to map content on the lights. So virtual shapes exist in the general vicinity of the cube and come into view when they intersect with the 3D surfaces. In this way, the animations are in a fixed position and the real cube rotates through them.
The outside layer is semi reflective mirrored polycarbonate so that in the daytime it looks shiny! It will reflect the beautiful mountain environment and the beautiful people of Apo land. The middle layer, between the LED tiles and the one way mirror, exists a layer of etched acrylic. This acts as weatherproofing and protection. It is cut with secular geometric patterns that diffuse the LED light and blend the bright dots to a crystalized look.
While the cube is completely made from aluminum, the much larger and sturdy base is constructed from steel and wood that will be tastefully fabricated and lit from within. It is a Rhombic Pyramid structure housing the axel and motor assembly.
---
Rat Race – $1,600
Artists: Wetfish Art Team
About: "Do you feel trapped? Like you're running in circles going nowhere? Do you need to charge your phone? If you answered yes to any of these questions you'll feel right at home in RAT RACE, Apogaea's giant hamster wheel."
---
XANDR, the Xychedelic Arachnid Neural Dancing Robot – $1,000
Artists: Friends of Alexander Hudspeth
About: Step into the spider dome and jack into XANDR, the Xychedelic Arachnid Neural Dancing Robot. Strap on your spider sensor vision, and get your arachno-groove on as a telepresence dancing robot spider. The spider itself seems anatomically correct, except that it was spawned in the deepest depths of the uncanny valley; the unholy spawn of a disco ball mated to a malfunctioning stage light system. Capable of carrying and dispensing libations, the wireless robot spider is remarkably large, nimble, and "safe" (We'll bring spare legs for when someone accidentally steps on one of XANDR's 8 feet). Spider wranglers will also be on duty with the ability to override and shut down the robot. Anyone will be able to control the robot, with a livestream spider vision show projected on the spider dome. The spider will normally be set to stream only mode, unless the spider wrangler explicitly allows for recording. The spider also carries a sound system that allows the operator to play sound effects, music, or speak from the spider.
http://www.hivejazz.com/xandr/
---
Ripple Bed – $875
Artist: Paul Johnson
About: With Apogaea's help we are creating a new and improved design for the sound experience that puts you inside the speaker. We hope to help the community connect with music in a completely new way through the sense of touch. This newest version of the project, formerly know as Harmonia, features a more comfortable, easier-to-use design that aims to pull people deeper into a sound experience of their own making.