Nov. 18, 2012
Fusion Factory, Denver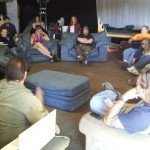 Hiya Lovelies!  Art here, chiming in to update you on the latest Apo board meeting news.  Cozied up in a circle of couches at the Fusion Factory a few days before Thanksgiving, 7 board members including 3 officers, 2 regional reps and a mix of 21 ignition and community members convened for November's board meeting.  It warms me thinking about how many ignition members, incumbent and new, are already ratified and it's only November.  Given the growth of our organization, besides all the other to-do's, the board will be busy working on reevaluating, defining and classifying all the ignition roles.
PUBLIC COMMENTS
Caroline Kert gave an update on the Ignition wiki project. For those who are wondering, wiki's are community developed sites that allow all the users to edit or add content. Apogaea has the foundations of one built. Caroline, Grandpa and Secretary, Duney Dan are starting this time intensive project to gather and load into the wiki: important Apogaea documents; history of decisions made and art grants funded; important financials and organizational reports. It will consolidate information and create consistency for ease of reference and future use.
Several peeps were present to be ratified into the positions recommended by their board liaison, so there were introductions. See below for the most recently ratified ignition members
OFFICER REPORTS
Vice President: April "Glitterati" has been focusing energy into art and art projects for Apo. She has recently spoken with Dave X from Burning Man about nailing down a date for a flame effects workshop. One of the other ideas she is supporting is to develop a "cross-pollination" of our Apo art projects. We would send a select one or few to other regionals, and in return have their artists provide an awesome experience at Apo.
April is also working on setting up better processes for Apo volunteers at the event such as tracking who shows up and who misses shifts, getting the schedules out to volunteers in advance and increased communication in general.
Secretary Duney Dan is juggling various projects including compiling the contact list of new ignition members and updating the organizational chart. Plus, don't forget the work with Caroline and James on the wiki to gather all organizational information/documents in one place.
NEW BOARD MEMBER
As previously announced, the board sought a new member to replace the recently vacated position. Four awesome (4) candidates initially applied, and then one reluctantly chose to withdraw due to his numerous outside commitments. The final three (3) candidates were Sean "Sherpa" Sidelko, John Collins "Dog Trainer", and Dave Wellhauser "Uncle Dave."
Each had unique and thoughtful answers to the questions posed by board members, and in the end the board voted for … *drum role* …
Sean "Sherpa" Sidelko is now the new board member as of Nov. 18th, and after the vote, immediately took on the role for the remainder of the meeting. Please welcome Sean in his new capacity as Apo Board Member (and Outreach Liaison)
IGNITION MEMBER RATIFICATION CONTINUED…
Check out ratifications approved at October board meeting
Ratification Approved:
Art Committee Lead – James 'Grandpa' Whitton
Center Camp Café – Julie Stenger
Event Coordinator – Kellie Nedrow
Finance committee (Board Member Rep) – Michael Yancy
Greeter Lead – Houston Hurlock
Lamplighter – Pai Quan
Parking Lead – Nolan Purwear
Social Media Leads – Becky Jackson & Michael 'Luki'
Sound Placement/policy– Matt "Mitch" Worden
Temple Champion (Burnable Art Coordinator) – Amber Jade
Ticket Art / Flyers – Gwin Coleman
Youth Coordinator – Erin " Dingo" Uncapher
Still to be confirmed:
Land Search – Ian Bates
Gate Lead – Vic Web
Porta Potties – Sam Liman
Signs – Erin O'Brian
Open:
Budget Lead
Cat Herder Assistant
Center Camp Infrastructure
Center Camp Coordinator (new position)
Center Camp Orphan Performances Lead
Donations Outbound
Effigy Coordinator
Fundraising inbound
Map lead
Motor Pool
Info Booth Assistant
Photography
Placement operations
Placement planning
Website Continuity Lead
Sound Enforcement
Temple Builder
Ticket / Wristband lead
Name TBD: ASAP / BED – Sexual boundaries / safety
Discussion ensued about this position as it would be new. It would involve consent promotion, sexual boundaries. The board would like to create the position don't have a name for it yet. It was suggested to maybe discuss the role with other regionals like Flipside. Koda suggested the name for this role should sound positive.
Board Retreat
Sa-weet! The board announced their Board Retreat will happen on December 1st. I'll share more details on the outcome of the discussions at the retreat as soon as possible!
Financial Review
If you recall from the August 2012 Board Meeting Summary, the first almost-daunting project of the new finance committee was to audit the books going back one year, and then decide if it were necessary to go back further.
Woo hoo! Duney Dan announced that the finance committee was able to validate all unclear expenses and said, "After reviewing all findings regarding the previous Apogaea Treasurer's (Shutterbug) official activity, the Board agrees that no further follow-up action is required."
Thanks to the finance committee for all their hard work on the audit!
Art Grants
James "Grandpa" Whiddon, Art Committee Lead, spoke to the board about the art grant timeline and information needed to get the art grant process rolling for 2013. He has worked on the proposal, researched the historical grant amounts and revised the timeline and accompanying web pages. James asked the board to give him a solid number for the grants to give applicants a feel for the total money pool from which grants will be drawn. After discussion regarding the scope of deciding the amount to be allocated to art grants in 2013, it was agreedthat the board would provide James a fixed amount by December 2nd. I'll announce more about the grants on December 5th.
Topic tabled for next meeting:
*Transportation and storage for the effigy?
Next Board Meeting
Sunday, December 16, 2012
1pm-4pm
Magic Mansion
2267 Holyoke Drive
Boulder, CO
Community members are encouraged to attend! And as usual, we will desperately attempt to post the agenda more than a few minutes in advance of the actual meeting. Wish us luck!