In the first round of Apo creative grants, there were 41 applicants requesting a total of $121k. Since we only had 1/6 of that money to grant, the Art Committee had the very difficult task of turning down many good proposals. Nonetheless, sixteen outstanding proposals with solid budgets and plans were awarded grants averaging $1080; check 'em:
SoundPuddle
by John English and crew
[email protected]

The SoundPuddle is an interactive space of visual-acoustic synesthesia. This spectrographically colorful dome illuminates sound on an immersive canopy of light. Visualize the spectral shapes of sound-space with any noise you can make. You will laugh, shout, and sing as thousands of solar powered LEDs unify your ears and eyes. This mind-expanding installation awakens when the sun goes down, and holds secrets unlocked by magic words. Join nightly jam sessions every midnight, or learn the science of sound at an afternoon workshop.
Mirrazeebo
The main structure is a spiraling nine-sided round house. The structure's walls will swoop upwards to a reciprocating roof. The surface of Mirrazeebo will be 70% covered in a highly detailed and intricate mirror mosaic using a polystyrene mirrored surface. Thousands of pieces of mirrors will result in a highly faceted, shimmering and extremely visually engaging space from every angle. Three pedestals will circle the main roundhouse structure and will control an individual lighting group on the main round house. Participants will be able to scroll through 15 different colors for each lighting group making for thousands of color combinations and a totally individual experience every visit to the piece.
Bird Nests
by Paul Bagley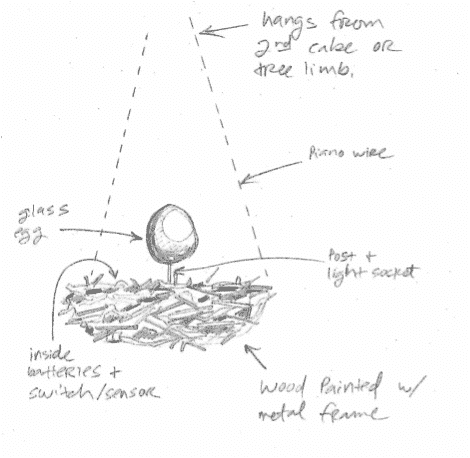 A series of about a dozen bird nests will be in contrast with the pine trees in a sort of flat burnt orange shade leaning towards an earthy red. Each nest will be between ten to fifteen inches in diameter and will have a chartreuse colored egg floating just above the nest as if it were alive. This living factor is pronounced at night when the egg is illuminated from within. Each nest in itself will also be floating in mid air beneath or between the pine trees adding to the surreal nature of the installation. They will be spaced apart so that the participant will notice more life forms deeper into the darkness of the forest. Also, each nest will have an applied matte clear coat mixed with a glow pigment that actually self illuminates well into the early hours.
Arbor Borealis
by Audiopixel
[email protected]
http://www.audiopixel.com
Using the forest's natural environment, we will create an aurora of lights in the trees.
The Arbor Borealis installation will be a hidden space off the main track where apo-goers will discover a serene environment of light and sound. High-intensity LEDs will be hung above head height in a 3D network amongst the woods. With four carefully hidden microphones, we will capture the sound of any passersby. AudioPixel's custom audio-reactive software will interpret the audio in waves of dynamic color, playing out 3D visualizations in space.
Drum Spiral
by Eric Miller and crew
[email protected]
This installation asks the question "what is a drum circle in modernity"? Participants use their bodies and electronic hand "drums" to co-create an aural and visual experience with those around them and around the world. The installation is global: non-local participants can play along via a real-time web application at http://digitaldrumspiral.org or tweet to @ddspiral.
Sweat Lodge
This will be a real Native American sweat lodge, with all the spiritual and traditional Lakota ceremony this entails. We plan on holding ceremonies twice a day for most of the days of the event.
The Tower
by Sir Pluto and crew
[email protected]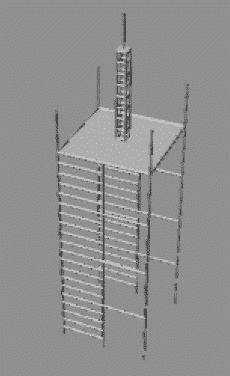 "The Tower" is a 32 foot tall antenna emitting energetic vibes to the people of Apogaea. The tower sits idle during the day just waiting to be powered up and start its duty. Every night at sunset there will be an official lighting party where everyone will be able to climb up the tower to enjoy the beautiful views of Apogaea and the surrounding mountains! Then at dusk our super secret good vibe generator (GVG) will be activated! Suddenly The Tower will spring to life starting with the base, oooooh pretty colors. Once the GVG is warmed up, the GVG will send all its positive energy up through the tower and out the very top where they will shoot out into the trees and down to the people of Apogaea.
Spiral Into Disco Inferno
by Kevin McWilliams and crew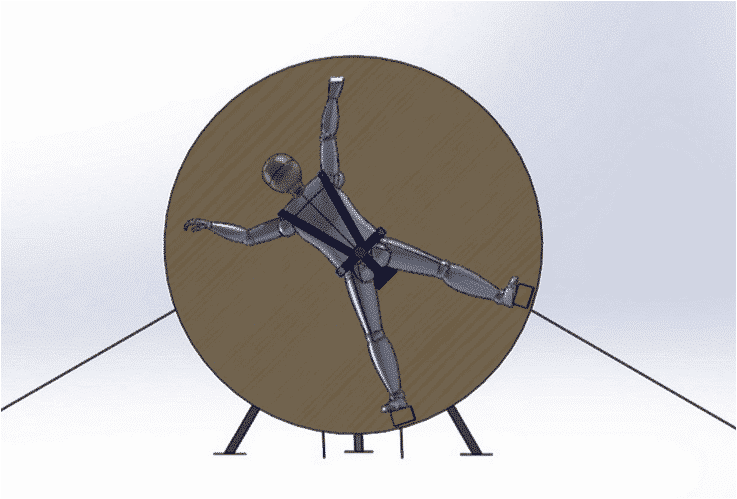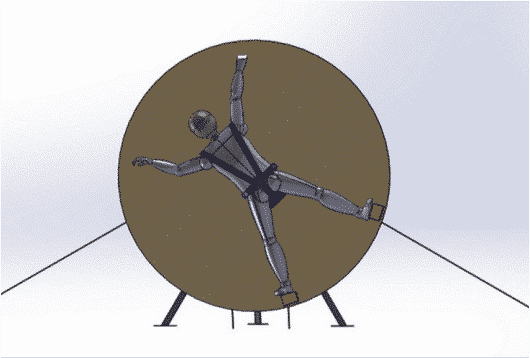 Take a stop at the first station on your spiral into disco inferno! This installation recalls the circus acts wherein a beautiful girl would be tied to a spinning wheel while a stuntman tossed knives or axes into the wheel all around her. Strap yourself in for a spin on the wheel of disco doom and contemplate the circular nature of life while your friends and admirers toss nerf battle-axes at you! Great for couple's therapy, getting over fear of spinning, and to learn how to fearlessly taunt someone who is throwing axes at you! Helmet and crotch protection provided.
Glowing Meditation Dome
by Lily Russo and crew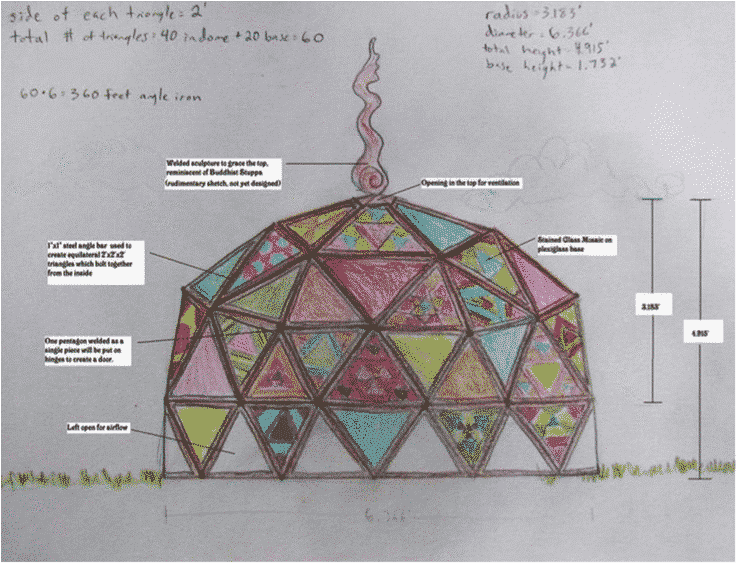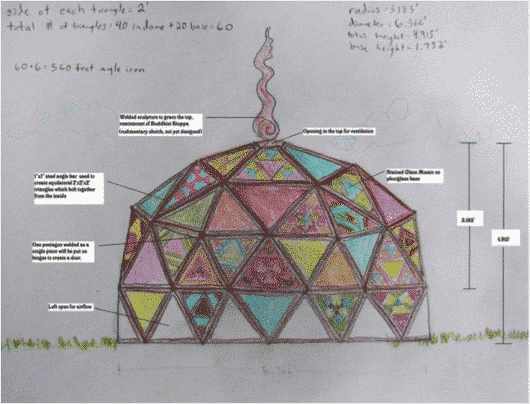 A multi-colored glowing meditation dome, created by a mosaic artist and welder duo. Inside each steel angle bar triangle will be brightly colored stained glass mandala inspired mosaics attached to clear plexiglass. A hinged opening in the dome will allow a person to enter, seat themselves inside to bask in the glowing colors of the glass. During the day the sun will shine inside, casting radiant colors on the meditator seated within. At night solar powered lights will line the inside of the dome, illuminating it from the inside out. The dome can be imagined as a gigantic stained glass Tiffany lamp set on the grass, with the participant inside as the light bulb.
Luminary
by Brandie Bond and crew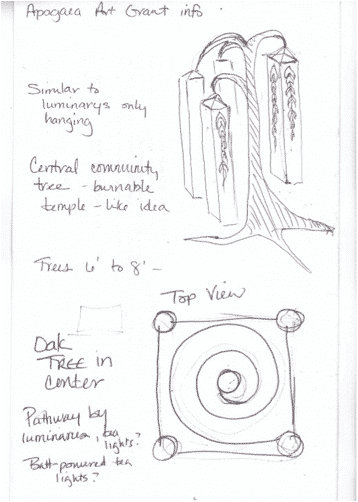 [email protected]
Much in the same way that the Temple at Burning Man holds a space for participants to come and share their thoughts, Luminaria seeks to hold a quiet space for participants of Apogaea to think and reflect upon their experiences. Four illuminated trees will stand and define the edges of the space. A spiral pathway will guide participants to walk to a central tree on which they are encouraged to write, carve, paint, post pictures, thoughts and stories.
Circus of Illumination
by Jasmine Dancy and crew
[email protected]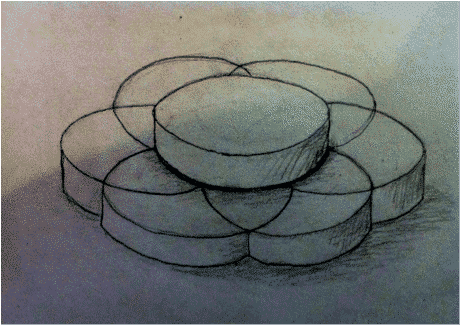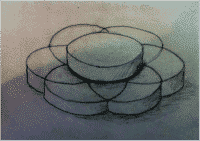 Enjoy a cabaret-style multimedia show involving live music, acrobatics, comedy, fire burlesque, fire juggling, magic, luminous costumes, unique lighting, and video projections. The Circus of Illumination is bringing a two-level platform, its shape based in the sacred geometry of the flower of life. The top circular platform rotates slowly with a motor.
Sheep Thrills Viking Joust
Um, sheep to mount (no, not like that), rails for the sheep to roll along, jousts for riders to pummel each other with. Nuff said.
Dubmarine
by Clock Work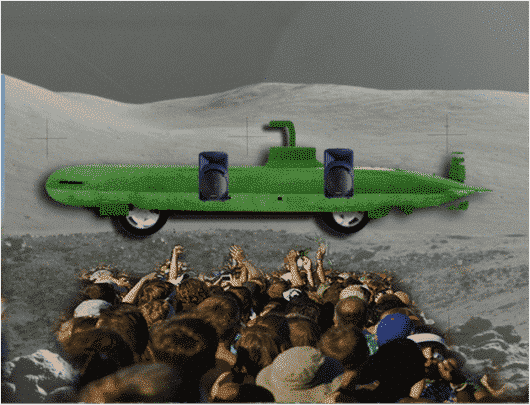 This Project is for an Audio/Visual heavy mobile Submarine. On the Audio side, the Dubmarine will be a final resting place for the Clockwork sound system and components in which to give an outdoor place for local musicians to release their passion on the world…..out the side of a giant green submarine. On the Visual side: the dubmarine will be a brilliant green beacon to the world that says: "hey you, come over here and bask in the glow and warmth of green verde-nesss…..and bring your hoop."
Fucking Unicorn Mobile Aerial Rig
by Jill Katzenberger and crew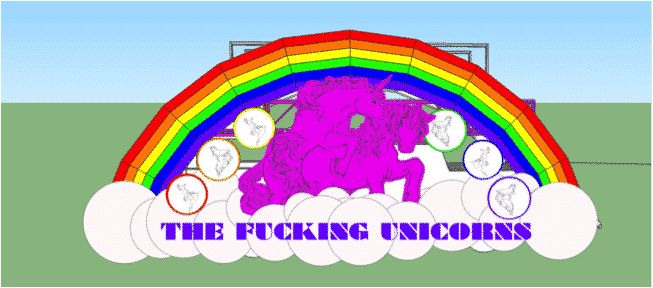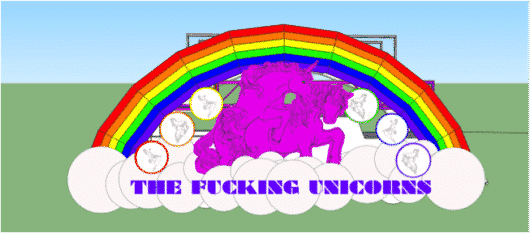 [email protected]
We will be creating the most glorious Unicorn & Rainbow-Mutant-Vehicle-Mobile-Aerial-Rig that the world has ever seen! This mobile beacon of sparkly unicorn love will serve as a light-hearted, whimsical space for playing, dancing and performing, as well as a quieter soft, safe space for cuddling, contemplating and recharging. The vehicle will encourage all Apogaeans and Burners to explore the outwardly-shining performer side and the glowing inner sparkles of love that make up everyone at their highest and most unicorn.
That Which Is Most Beautiful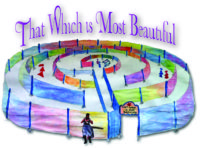 by Erica DeNorscia and crew
[email protected]
You approach a radiant and beautiful circular structure with vibrantly colored walls that glow from within. A sign above the entrance entices you with the words, "THAT WHICH IS MOST BEAUTIFUL." You enter into the glowing labyrinth filled with wonder and anticipation. What will I find in here? Your "walk in beauty" is inspired by the Diné people's understanding that we create the world around us, and if we walk with beauty in our hearts and minds, the world will be a more beautiful place.
Spiral Levitator Lounge
by Cory Sutela and crew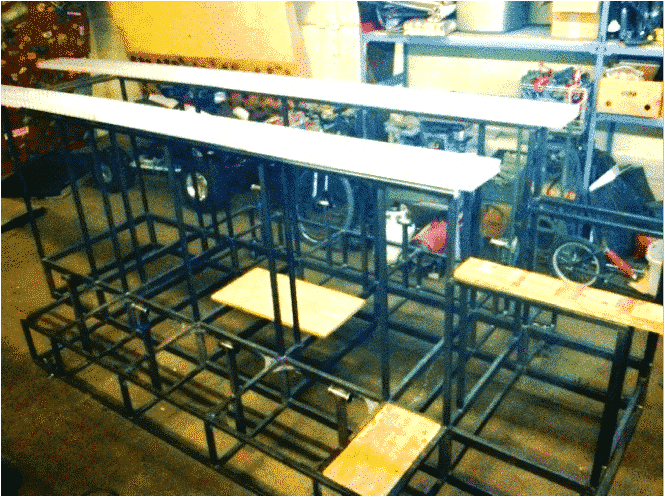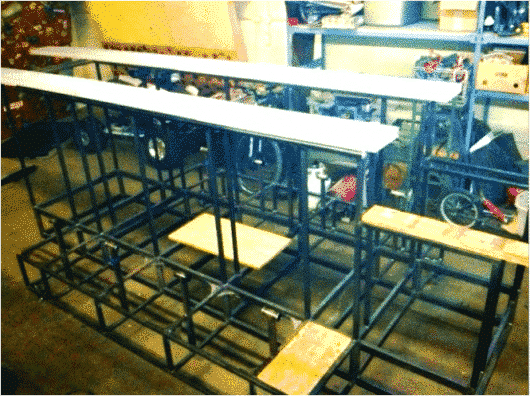 The spiral levitator lounge will be an 8 peddler, 2 dancer, single pilot, single bartender bicycle. 4 pairs of patrons will face off across the bar, providing the energy needed to travel around the playa. At Apogaea: Spiral, the bicycle drive train will not be operational but the lounge will travel around behind a vehicle. Drop on by for a levitation libation!
Isn't this gonna be a kick? None of the artists got all the money they need to create their project, far from it. Do congratulate the artists and ask what you can do to help them (and the artists who did not receive grants) make our festival even more incredible.

If you are interested in applying for the smaller art grants for your project, they are due on 25 February: https://apogaea.com/art-installations/creativegrants

Grassy ass,
~Rev. ttt and the rest of your Art Committee