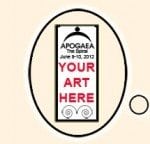 Submit here: [email protected]
Deadline: 12:01 a.m., February 6, 2012
Questions: [email protected]
We will be using ONE design for the 2012 Apogaea ticket. Winner will receive ONE free ticket to Apogaea 2012. Winner will be announced in March, 2012.
Art Guidelines:
Ticket Design Size –size 5.5″ x 2″ + .25″ bleed on all 4 sides = 5.75 x 2.75 (Final Ticket Size).
File Formats – tiff, eps, pdf, and high quality jpg files accepted
Resolution – 300 dpi is ideal, but files must be at least 200 dpi
Adobe Photoshop and Illustrator templates are available
Submissions will be judged based on concept, execution & image quality
Content:
Ticket must include:
The name of the event, "Apogaea"
This year's theme name, "The Spiral"
The Apogaea logo, which you can download here in EPS, JPG and PNG formats
The tentative date of the event, June 7th – 10th 2012
* Please note that it is very important to stay within the developing guidelines. Pulling images off of
the internet is usually not a good idea because of the low quality issues
Please use the Photoshop or Illustrator Templates for accurate placement of text and bleeds
The Apogaea Creative Committee would like to wish you the best of luck!