What Is The Temple?
The Temple, like the Effigy, is a special art piece at Apogaea. The Temple at Apogaea is meant to create a reverent space where participants can meditate, honor what has been lost or gained, go inward, slow down, let go, or whatever other experience can be made of it.  Each temple has its own unique space to be encountered. For information on submitting a proposal to build the Temple, visit the Temple Proposals page.
The 2018 Temple
Foris Arca: Outside The Box
by Vince Kenney (Sexy Grandpa), Nolan Puryear, Morgan Russo, Tom (Fatty) Varani
We present Apo with an interactive art display celebrating past, present, and future. We want to use a geometric cubes to represent how we relate to those poignant events in our lives (past, present, and future).  We are creating a  place to display the heart and soul of our Apo attendees - we encourage they leave a mark which something that is typically frowned upon on an art display.  Future cube will be a gift to the artist, present cube to be moved to regional events, and the past cube skin will be burned at the temple in Black Rock City.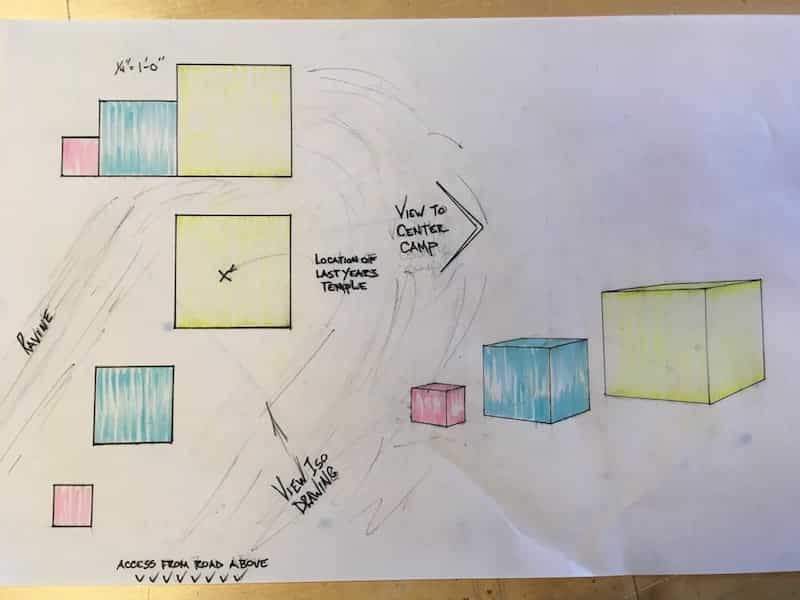 ---
Past Temples
2017 - Hotaru no Hikari: The Firefly Temple
2016 - Temple of Resonance
2015 - no temple due to event cancellation
2014 - The Temple of Infinite Life
2013 - Temple of Transubstantiation
2012 - Luminaria
2011 - Temple of the Moon