What Is The Temple?
The Temple, like the Effigy, is a special art piece at Apogaea. The Temple at Apogaea is meant to create a reverent space where participants can meditate, honor what has been lost or gained, go inward, slow down, let go, or whatever other experience can be made of it.  Each temple has its own unique space to be encountered. For information on submitting a proposal to build the Temple, visit the Temple Proposals page.
---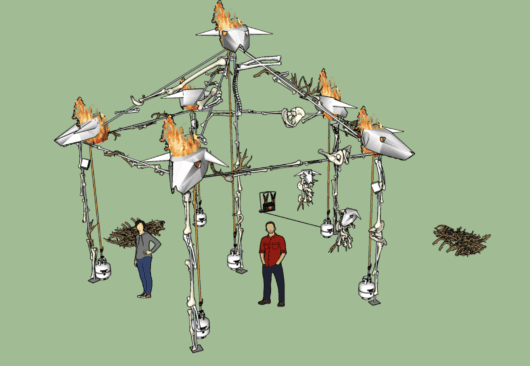 The 2019 Temple
Temple of Death
Artists: Mitch Hoffman, Jake Woerner, and Jacob Bohlen
The TEMPLE OF DEATH will be a meditative space for participants to ponder mortality, entropy, and their time on and relation to the earth. It will consist of a central, shaded pergola structure and outlying totems, spires, and mounds of bones and antlers. The pergola will be decorated with bone and antler and will be aesthetically representative of the sun-bleached high desert locale that has been a home to Apogaea these last few years.
---
Previous Apogaea Temples
2018 - Foris Arca: Outside The Box
2017 - Hotaru no Hikari: The Firefly Temple
2016 - Temple of Resonance
2015 - no temple due to event cancellation
2014 - The Temple of Infinite Life
2013 - Temple of Transubstantiation
2012 - Luminaria
2011 - Temple of the Moon