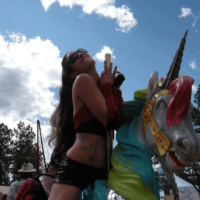 Title: Center Camp Assistant Lead
Description: As the CC Assistant lead I feel honored to take on a lot of the behind the scenes tedium assisting the Center Camp Coordinator, involved in creating the place of magical performances, workshops, art and coffee drinking. Through the wondrous powers of emails, inventory lists and late night spreadsheet editing, we're bringing together a team of talented people certain to entertain your faces off.
Bio: My first Apogaea was 2008, and that's one of the moments I will always count as a pivotal step in my life. Becoming a part of this community helped me discover my true friends, my best self and so much more. Becoming a "Burner" has sparked exponential growth in my life that I will always be grateful for. To truly show my gratitude I have gladly stepped into a more responsible volunteer role this year, hoping to give back as much as I've received.
Email: rachdiculous@apogaea.com