Apogaea is excited to announce the winners of the 2023 seed money grant round!  Read on for more… and KEEP MAKING ART!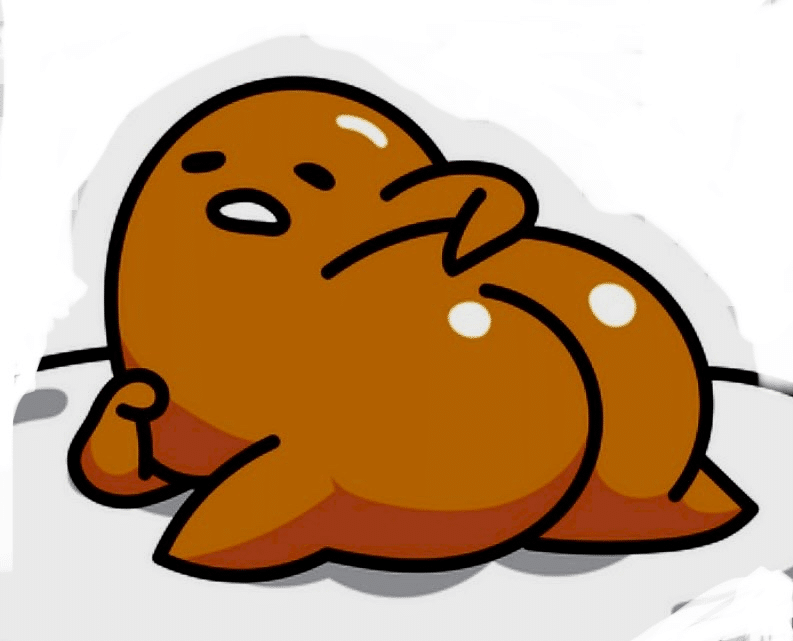 CJ + The Ladies of GlampCamp
See it all, do it all, Butt First Coffee! Catch our popup coffee shop in a shady spot on the main road midday on Friday. Serving up delicious coffees, butt first. Butt puns, butts out, Butt First Coffee.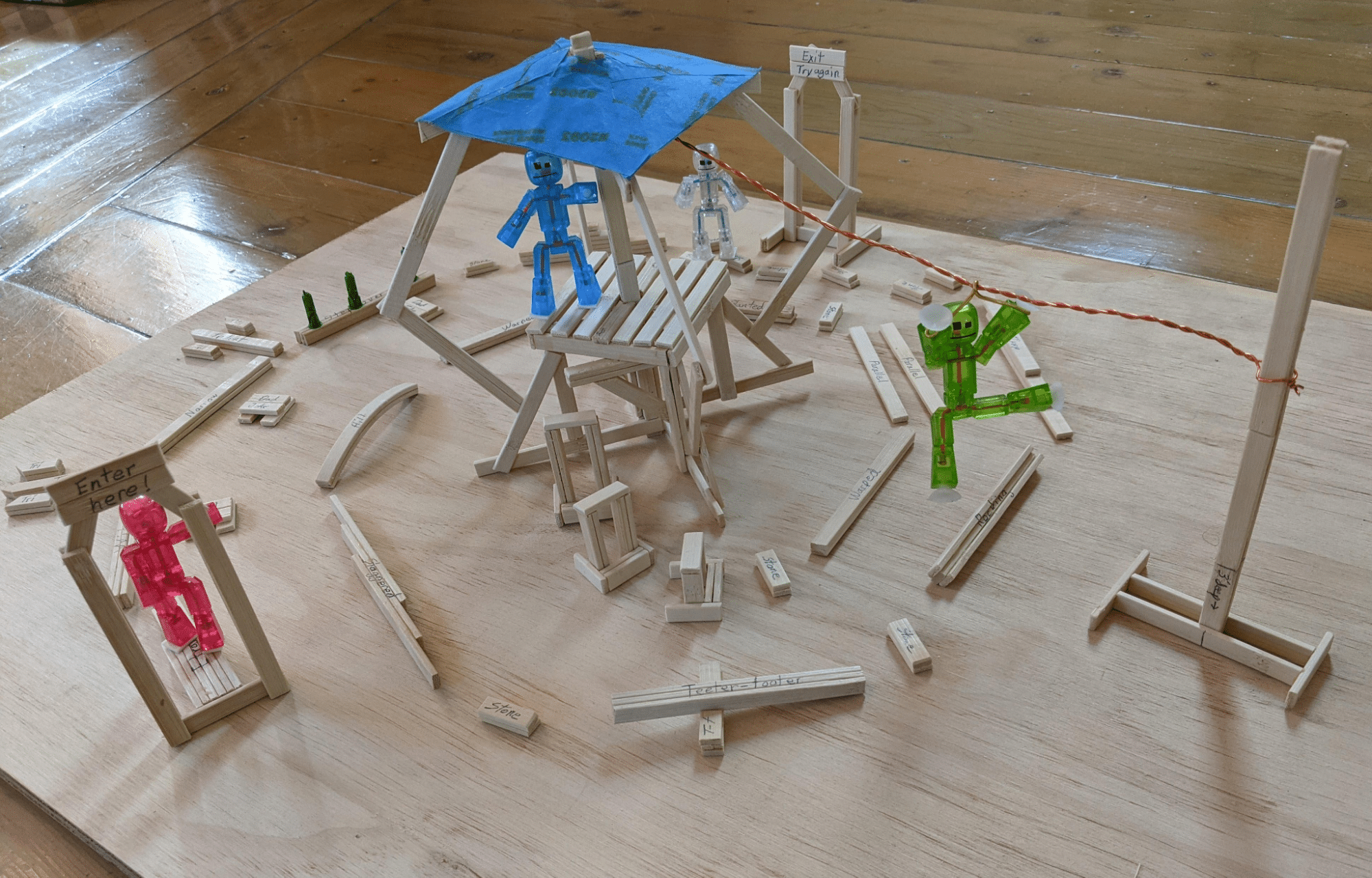 Paul R. Bareis / Blu Pax
Consisting of a series of balance beams of varying difficulty, participants challenge themselves to successfully navigate the beams and associated obstacles over the dangerous prehistoric sea, which is filled with various aquatic creatures. Their goal is to make it to the rocking Lifeguard Buoy, where they can then take a zip line to exit the installation. There are four different challenges that speak to Life's Balancing Act. The first speaks to simple survival, which requires focus, centering and perseverance. The second challenge speaks to answering the deeper philosophical and spiritual questions of life. The third challenge speaks to the lighter side of life through 'dad jokes'. The final challenge is discerning how to make peace both for ourselves and others.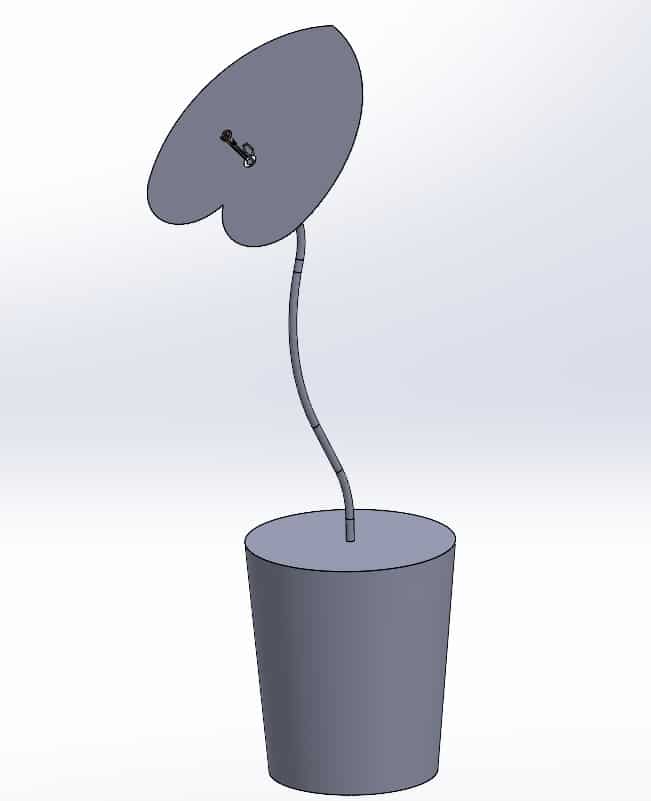 Kevin McWilliams
A metallic flower, growing out of a planting pot-shaped base stands 8 to 10 feet tall. It is equipped with a special system allowing colorful flame to be created from the blossom. The flower also has a propane poofer system so they can make grand fireballs in addition to the colored flame effect. In this way, a bemusing display of flame in unexpected colors entrances participants and educates them about how colored light is emitted by metals and how inspiring physics-based art can be.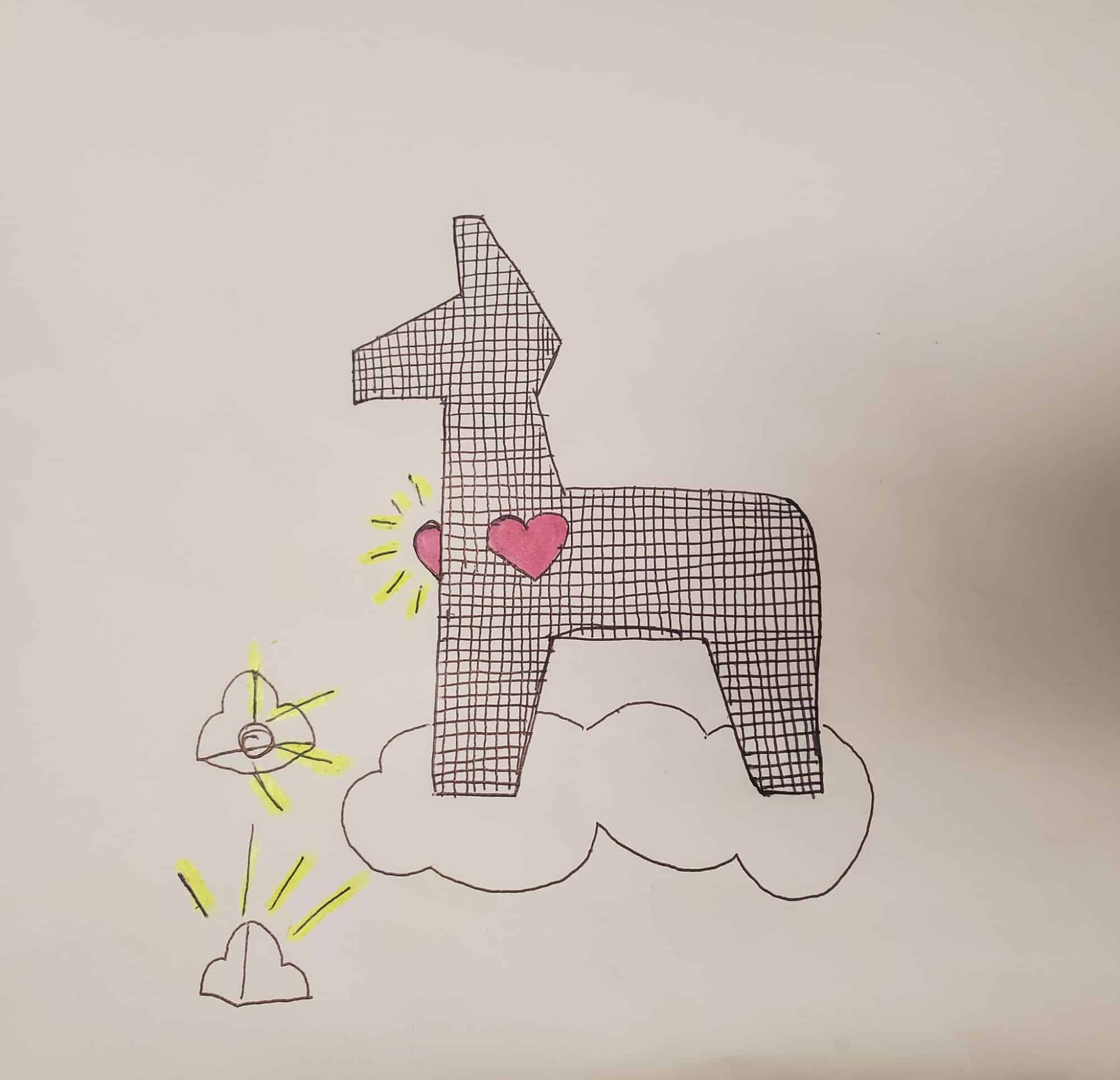 The Disco Llama Illumination
Grizzelda
It's an honor to be selected to produce & present the newest party animal on the block. The Disco Llama Illumination will be a life sized pinata-esque geometric llama sculpture covered with a mosaic of mirror tiles with a heart cavity radiating light. The Disco Llama Illumination is a physical reflection of how we choose to express our inner party animals. Llamas, while beautiful & gentle looking creatures, are fierce natural guardians of their herds. This light hearted & playful statue is a beacon reminding all party animals to be good stewards of their herds.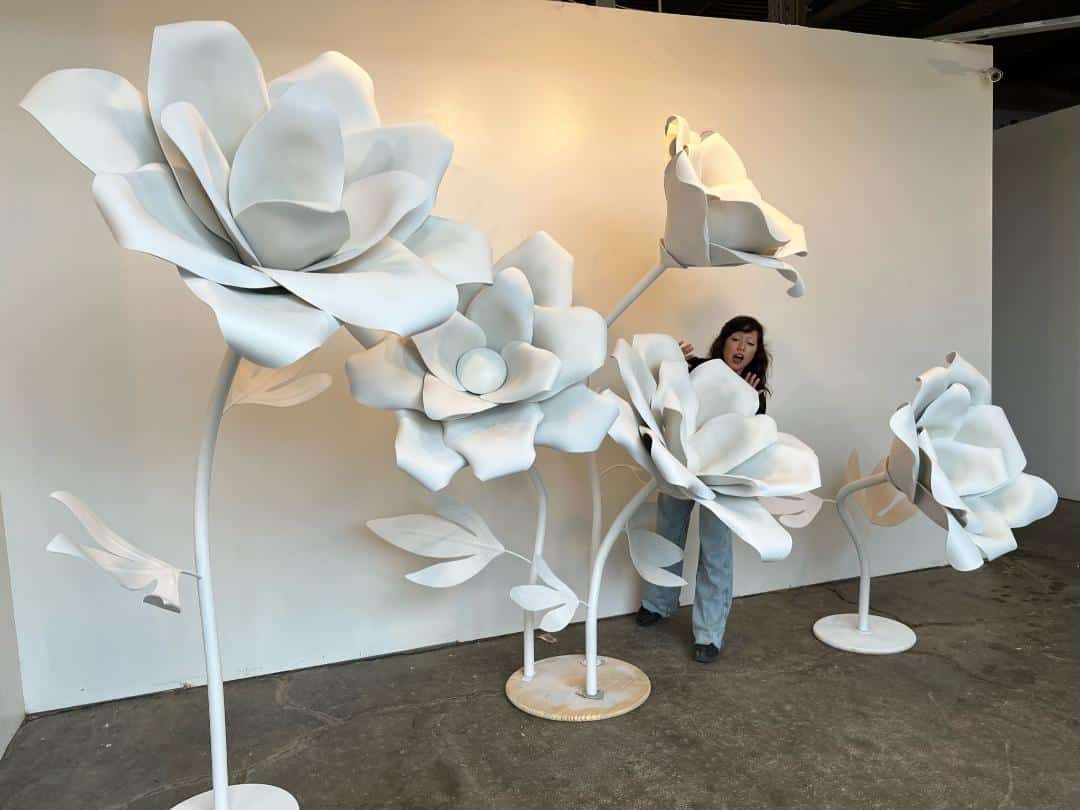 James Kindler + Jason Johnston
James Kindler – I am co-founder of a kid's art program called the Super Art League. We use art and performance to teach kids teamwork, inclusion, and community. We have multiple programs and products that we teach and or sell to school districts, community centers, charter schools, and libraries.  As an artist, I create fire sculptures out of scrap materials. My fire sculptures revolve around a ritual where people can put notes or trinkets into the sculpture asking for something to grow in their lives or asking for something negative to leave. Then we do a ritual to release that energy into the universe.
Jason Johnston – For many years most of my work has been limited edition and commissioned bronze sculpture. I've spent over a decade touring the United States selling bronze sculptures at art festivals and in galleries nationwide. I have taught sculpture at the University of Oregon, the Interlochen Center for the Arts, and currently teach at the Columbus College of Art and Design.  Recently I have been working with students to create a giant hand holding a Polaroid photo opp that students will take to festivals for people to enjoy and learn about their Transit Arts educational program. I have been further exploring experiential interactive art and have created flower sculptures for the Franklinton Conservatory Annual Hat Day Party and for Christian Dior New York Fashion Week Party, the Oregon Country Fair, and the What Festival to name a few. This is far too much fun and I look forward to creating all things small into large, playful interactive environments.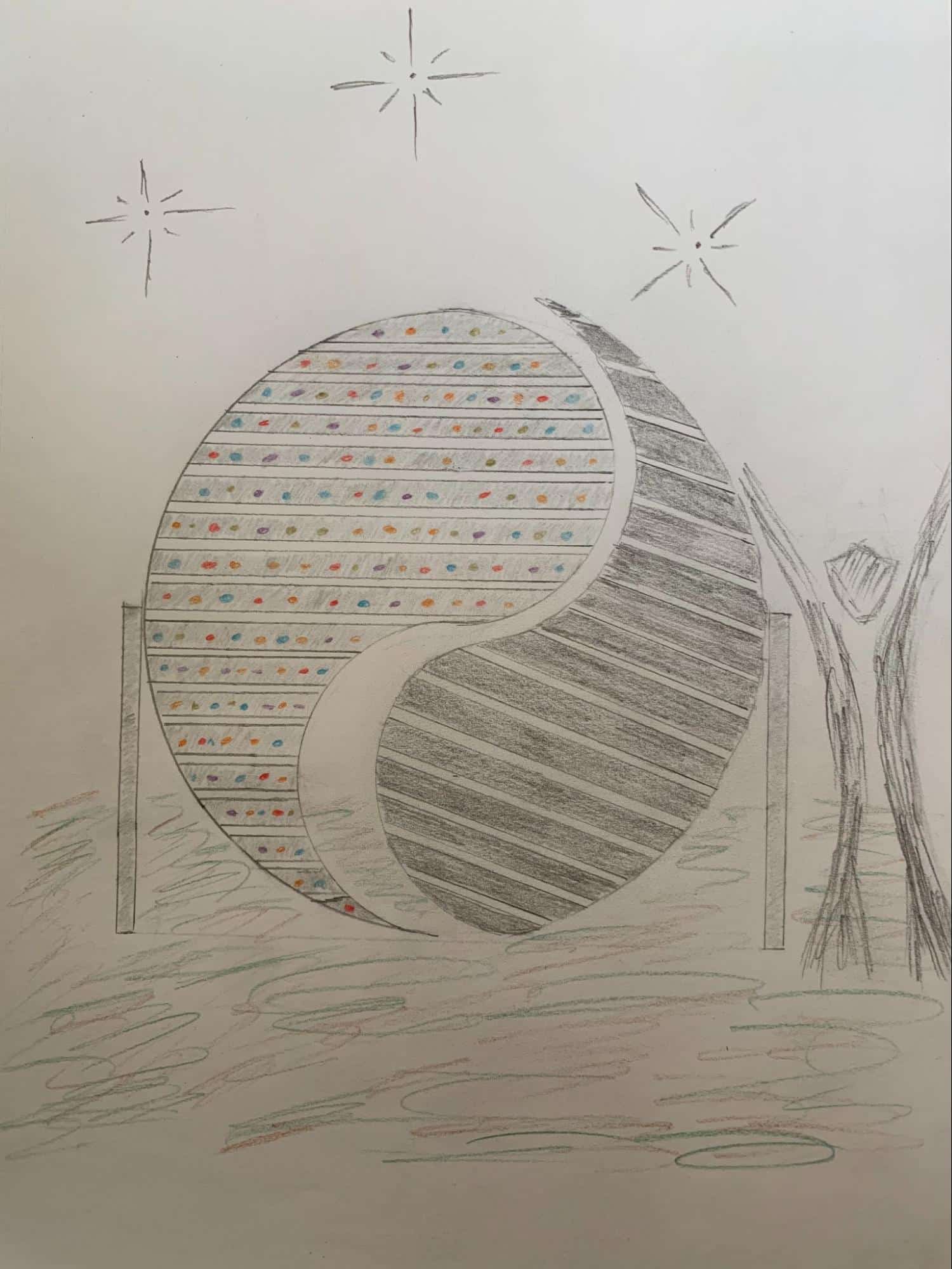 Andrew Smith
Space travelers will know they've arrived at the Glam Space Rodeo when they pass through the Yin Yang portal and interact with the dazzling light display as the doors spin. The Yin Yang represents the continuum within the universe, a balance of opposites – the masculine and feminine, light and dark, order and disorder. Use these saloon doors to slip into self realization and cosmic knowledge.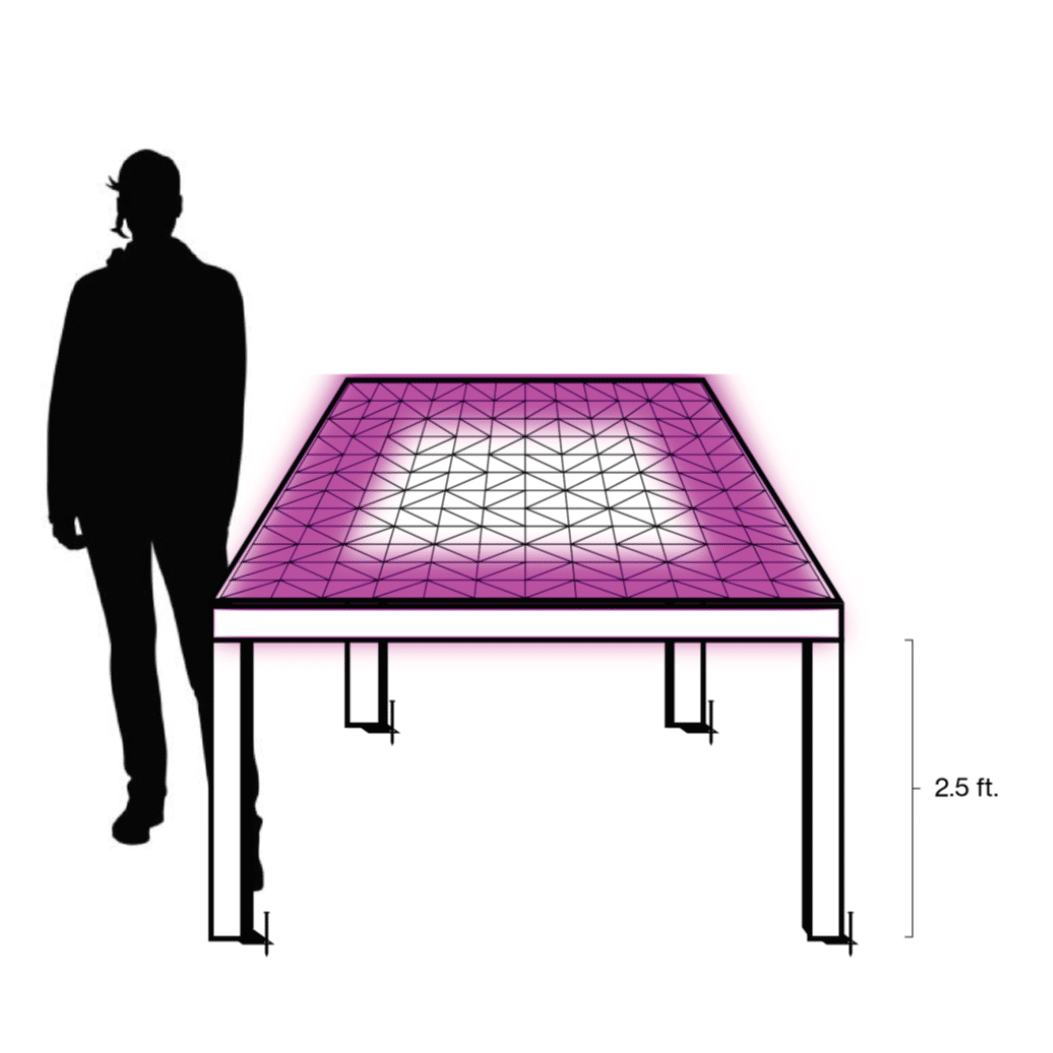 Trey Gause
I will construct an interactive table containing 288 geometric pieces to be rearranged by the audience like a puzzle. With no "final" result, the journey is emphasized over the destination. The hand-painted, double-sided triangular pieces will fit together in a geometric formation that has endless compositional possibilities. My goal is to create a tactile experience for the audience that invites curiosity and participation. Checkout the ultraviolet dimension of the table activated at night!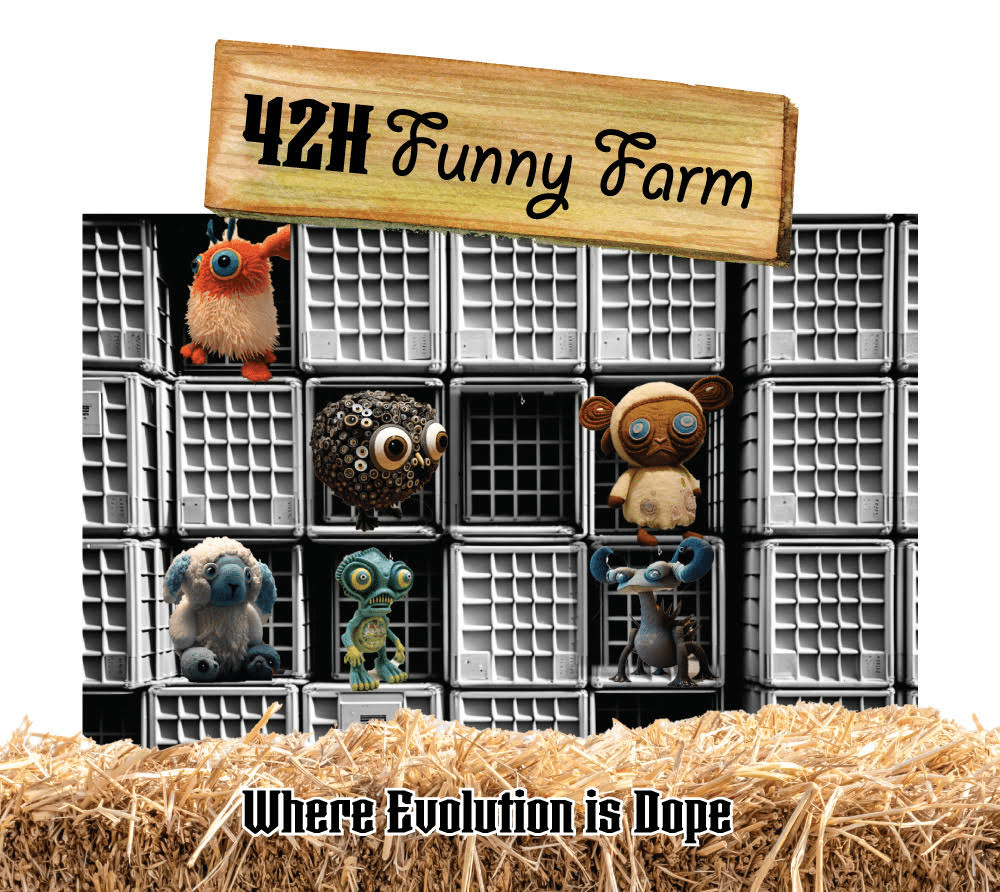 42S - The Funny Farm - Evolution is Dope
Spacey Lane
Welcome to the 42H Funny Farm at the SSFSSS42H outpost. Come learn about livestock from diverse star systems and possibly even interact with them if the creature handlers are around. More details about a showcase event and possible live auction will be available in the "WWW". You can find these cosmic specimens at Camp Spaghetti Sci-fi. Brought to you by Spacey Lane.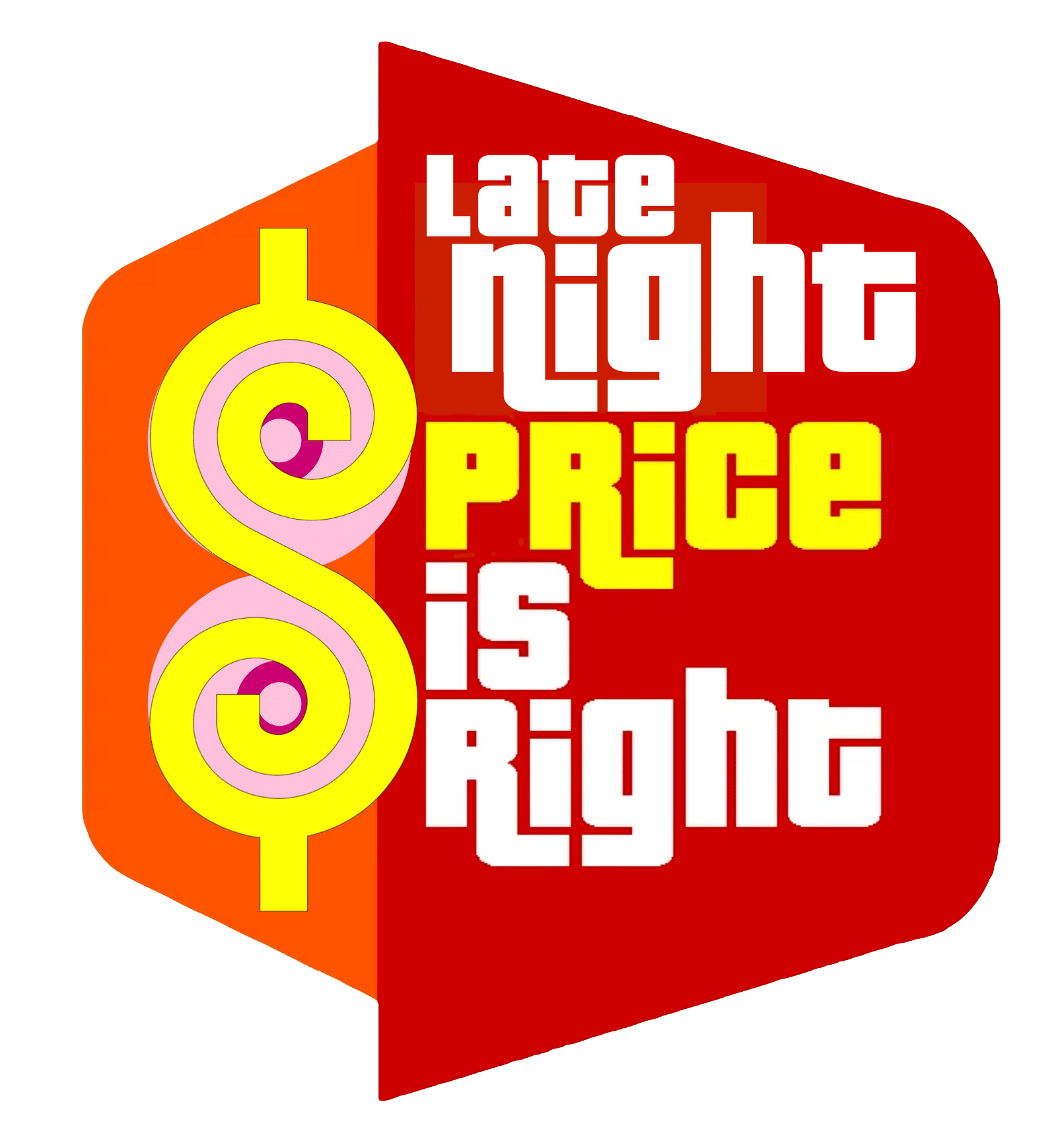 Late Nite Price is Rite Presents Late Nite Family* Double Dare (*Not Family Friendly)
Late Nite Price is Rite is back with an updated format for Burn Night! Get off on our fabulous prizes with a new, team-based approach, pushing community participants to leave their comfort zones behind. Hosted for the first time in Center Camp, LNPiR will invite 6 lucky Apogaean audience members to compete as teams to fill Your Mom's Vagina, put their Hands on a Hard Body, and take the Ice Cock Challenge, along with many new games! Leave your kids back at camp to guard the beer cooler so you can participate in the greatest family* game show of all time!  (*NOT family friendly 18+.)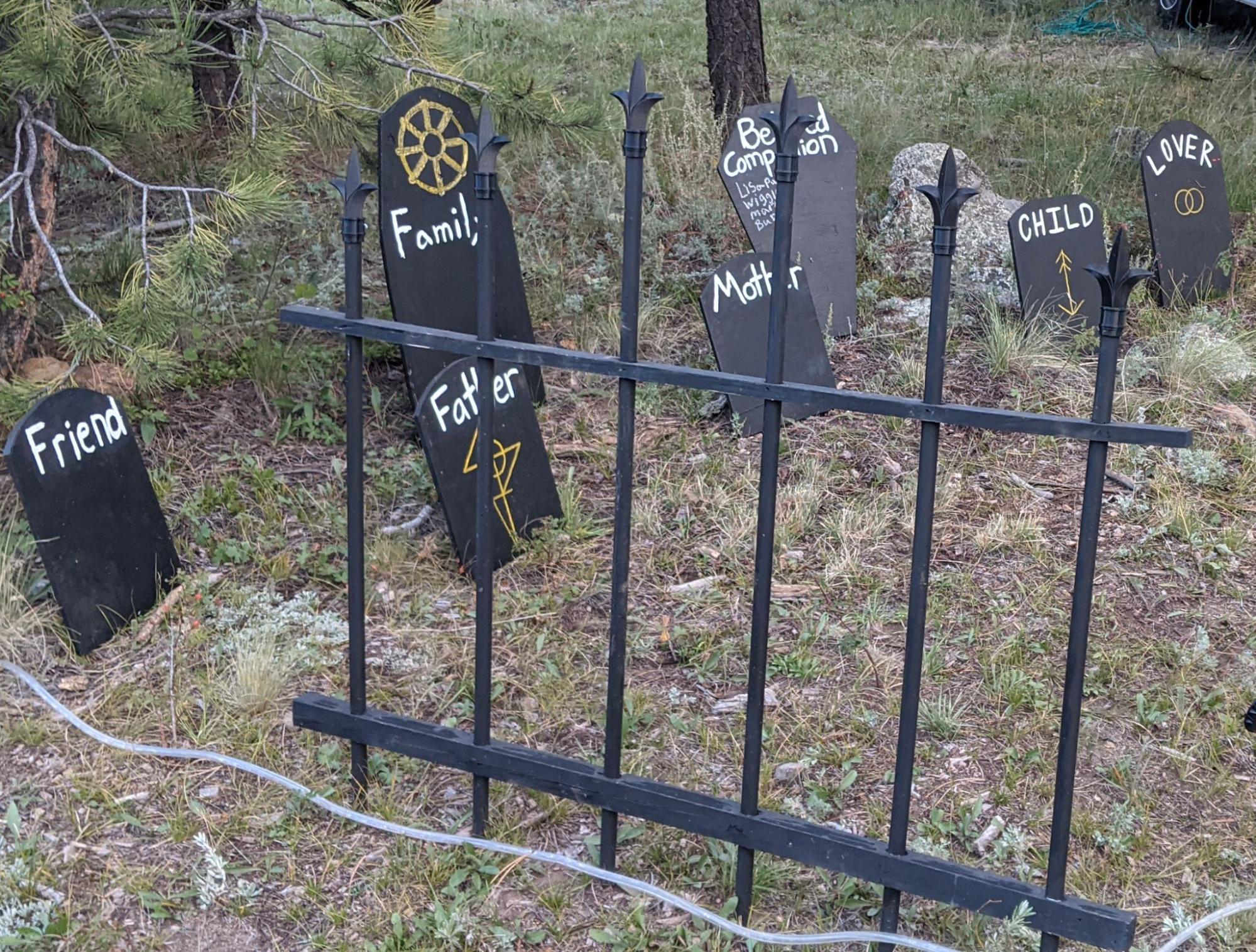 Changeling & Resistance and the Flow Bats
While the piece has grown – building the environmental ambiance and seeking to represent more religions, prompts, and platforms for thought – the premise remains.
Whether you wish to Lay something to Rest, for it to Rest in Peace, want to recognize a departed loved one, or have a systemic ill you wish to symbolically put in the ground, our ask is still the same.
Come write on our headstones.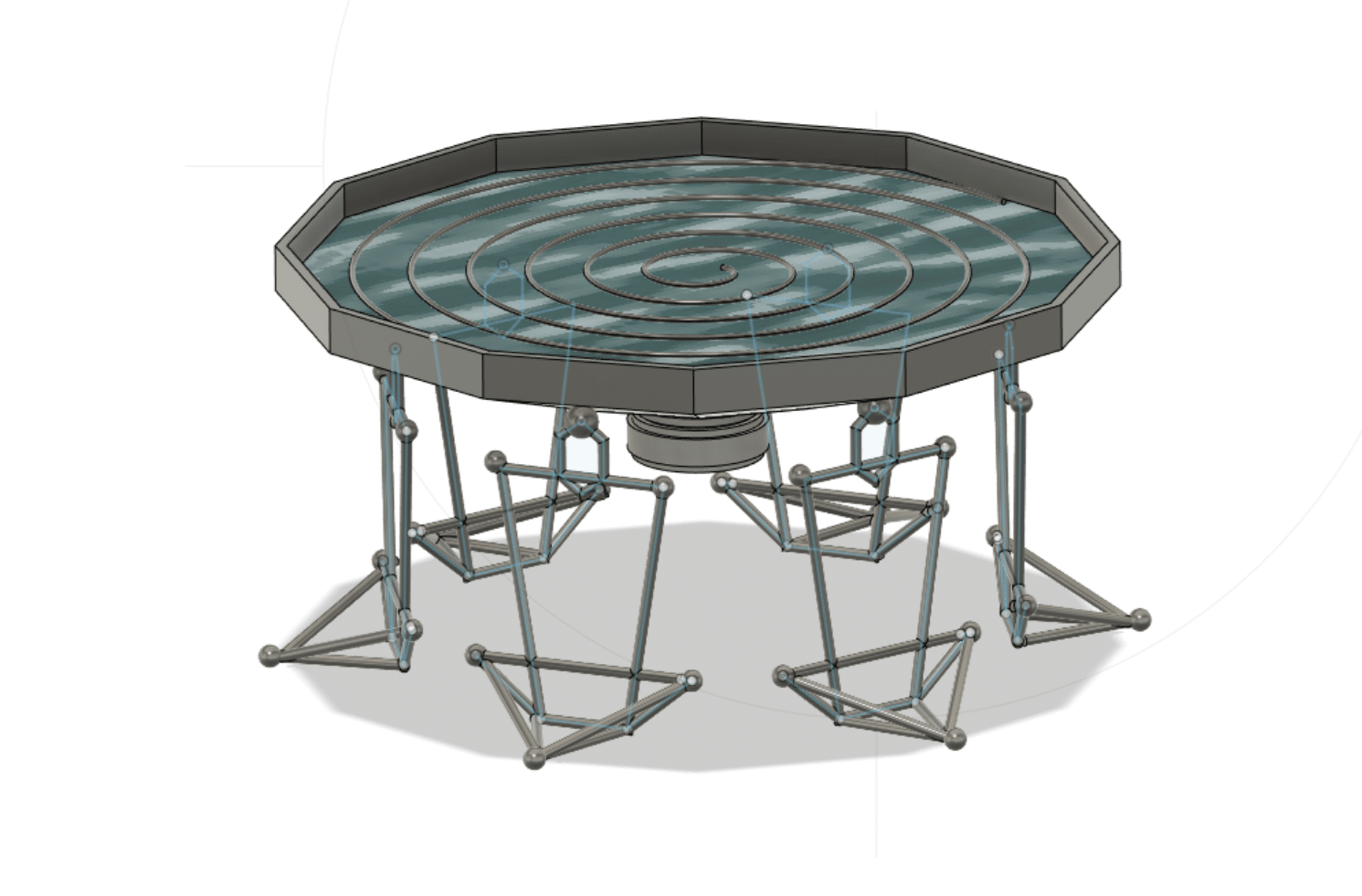 When Our Heads Are Holding Up The Sky
Matt Brooks
When Our Heads Are Holding Up The Sky will be a freestanding, reflective pool that unifies elements of light, fire, ambient sound, and water. The installation's namesake is borrowed from a phrase used to describe zen meditative practice, and as such, participants are invited to experience stillness in a highly discordant environment where everything is anything but still. Supporting the weight of the pool will be abstract statues that are configured in different poses.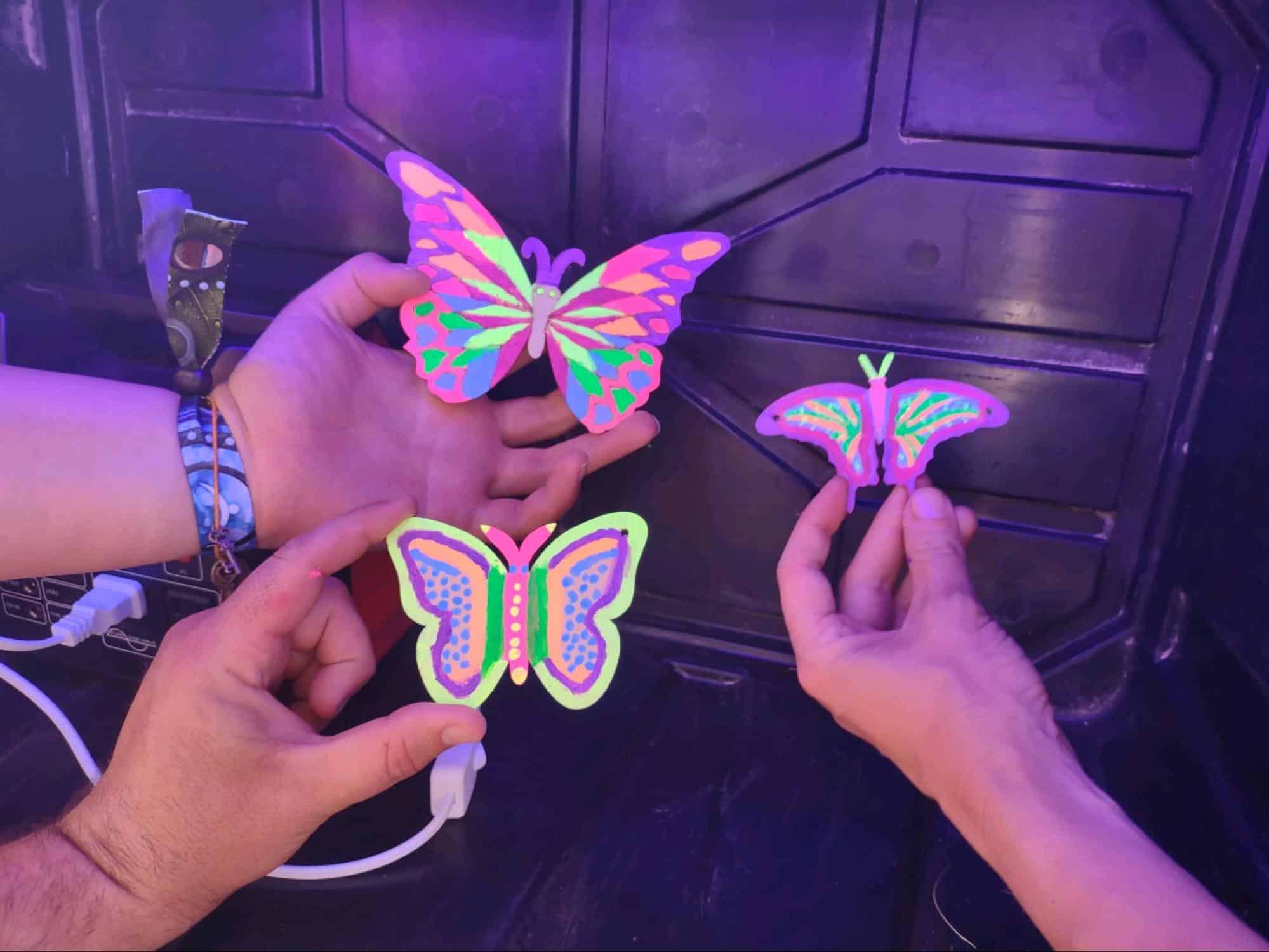 Black Light Butterfly Painting
Tao Rhea
Blacklight Butterfly Painting at Grand Mayhem. Friday Noon-4pm or until butterflies run out. Come by Grand Mayhem for an afternoon of interactive fun to paint your own Blacklight Butterfly… all supplies provided. Just bring your creativity!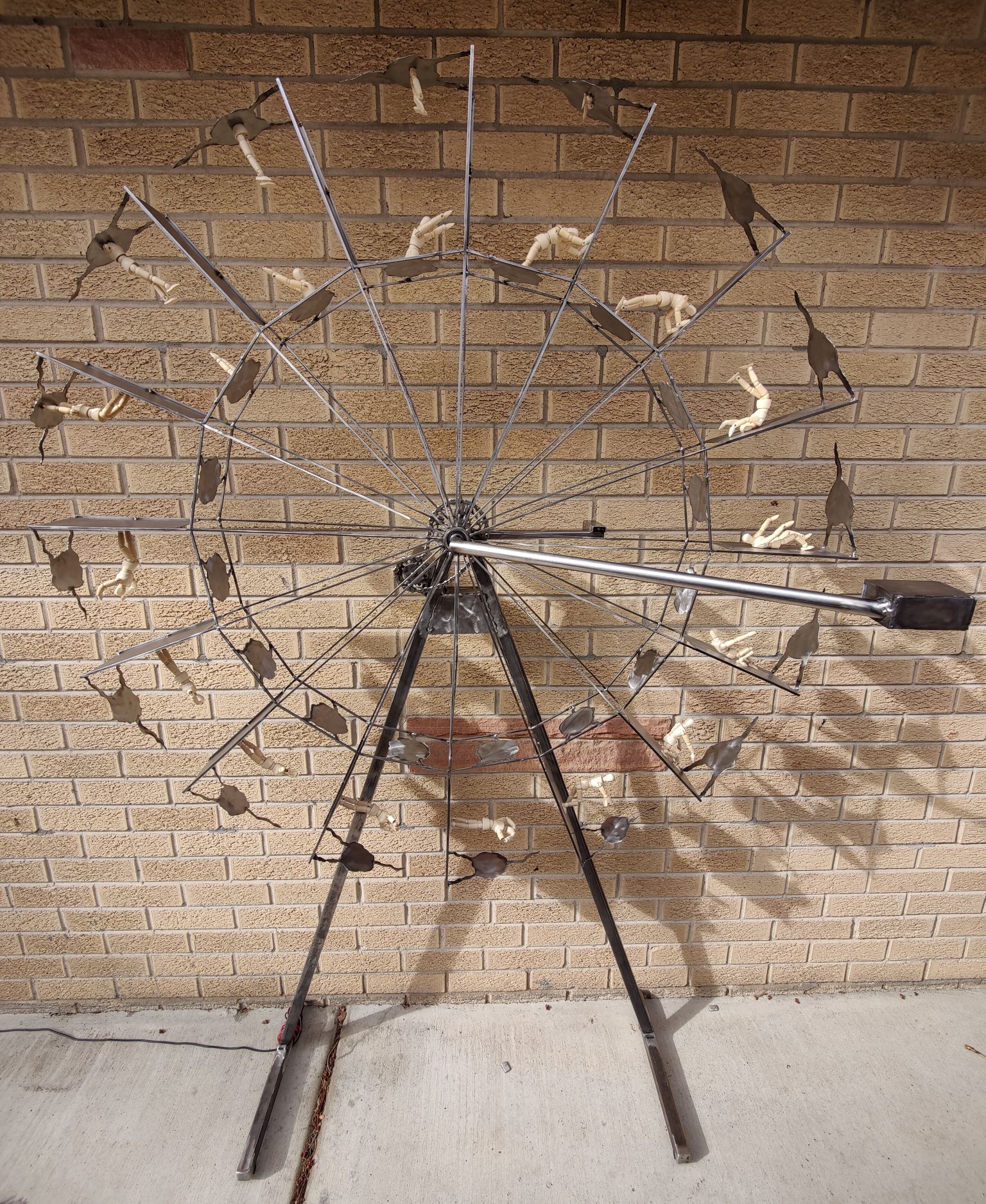 Andy Blair
Zoetropia is a collection of stroboscopic 3d zoetropes. These kinetic steel sculptures bring seemingly inanimate objects to life in front of your eyes through the use of precisely timed strobes. They are essentially stop-motion animation in real life. Watch color changing sea creatures swim through the air, wooden mannequins dive through portals, and other magical illusions. Enjoy. Maybe even lose your mind!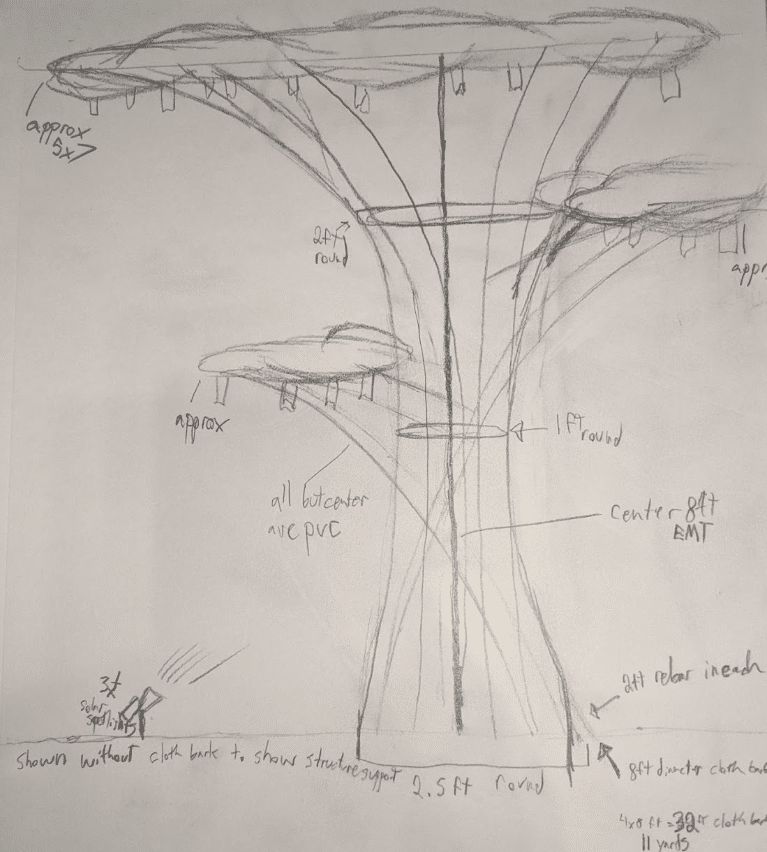 Sparrow and Resistance and the Flow Bats
A Wishing Tree is a unique part of many Asian and Asian American communities and integral to cultural festivals such as Lunar New Year. Community members write their goals, aspirations, and promises onto red slips of ribbon to tie them to branches. The space near and below the tree is for refuge, prayer, meditation, and reflection. As an Asian American, these trees and festivals are a part of my cultural identity and helped me feel like a part of community, instead of "other". Apogaea has given me this same gift of community full of differing experiences and backgrounds, so I want to share The Wishing Tree as an expression of my cultural experience and love for community with all participants.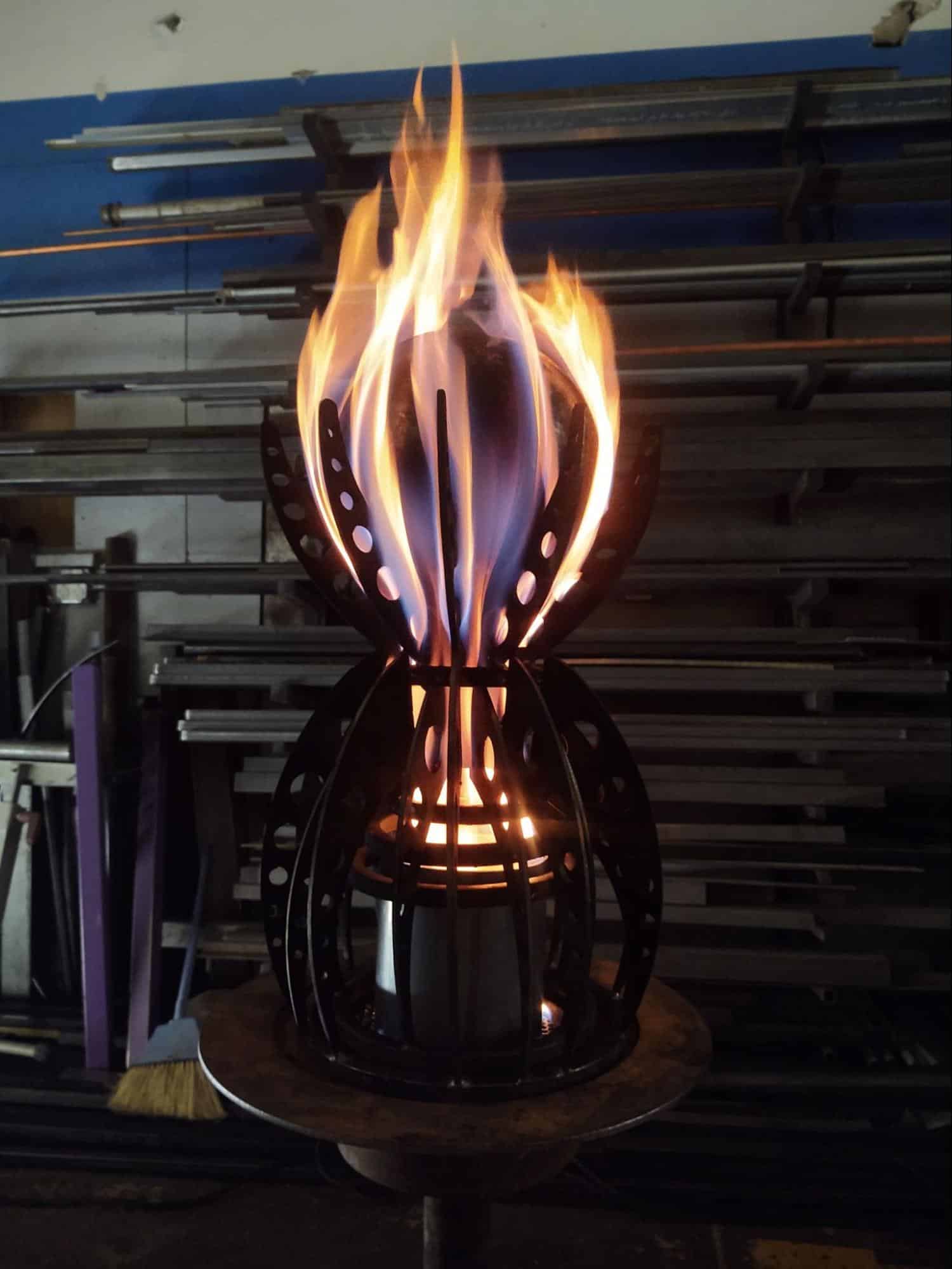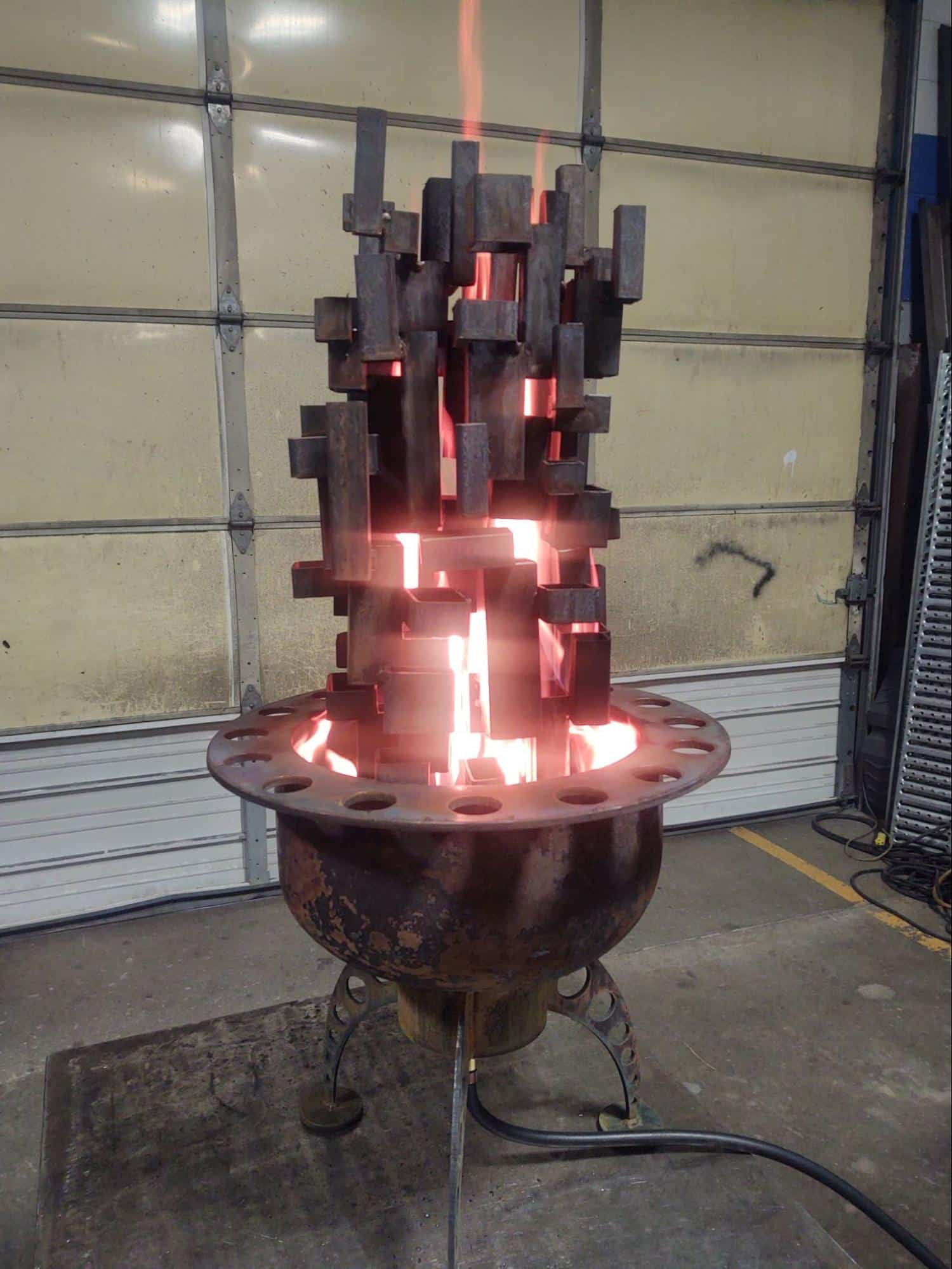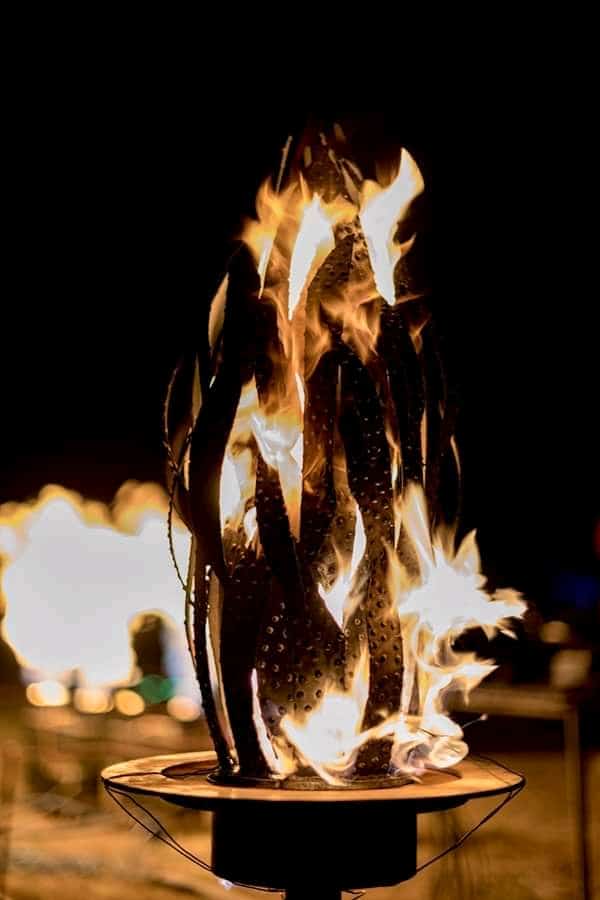 Spaghetti Sci-Fi Theme Camp Fire Garden
Dave Chadwell
A variety of steel sculpture warming flames as well as the interactive Hydraconflagulator mini poofers for all to enjoy and warm your Bodies and Souls.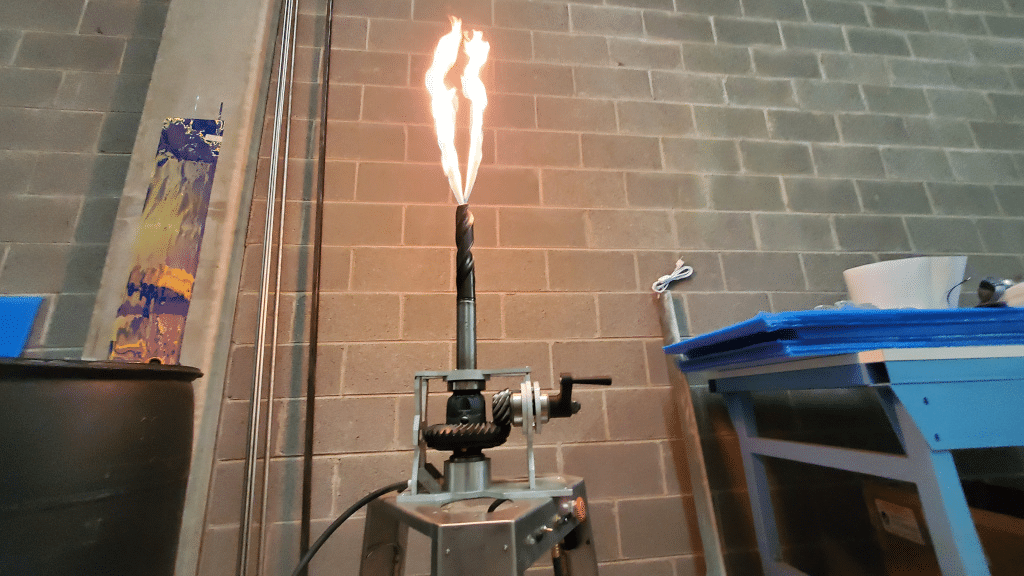 Evan Beloni
Flaming Drill bit is an interactive fire sculpture utilizing an actual 1-3/4″ coolant through drill bit spinning on a ring and pinion differential. Replacing coolant with propane, this piece spins and flames with an industrial aesthetic.

Evan Beloni is an artist, engineer and metal fabricator with a background in aerospace and machine design. While his fire sculptures aren't the biggest, he excels in innovative interactive methods to engage the community with fire art. Evan's fire sculpture garden at Apogaea 2023 will include several brand new interactive fire pieces.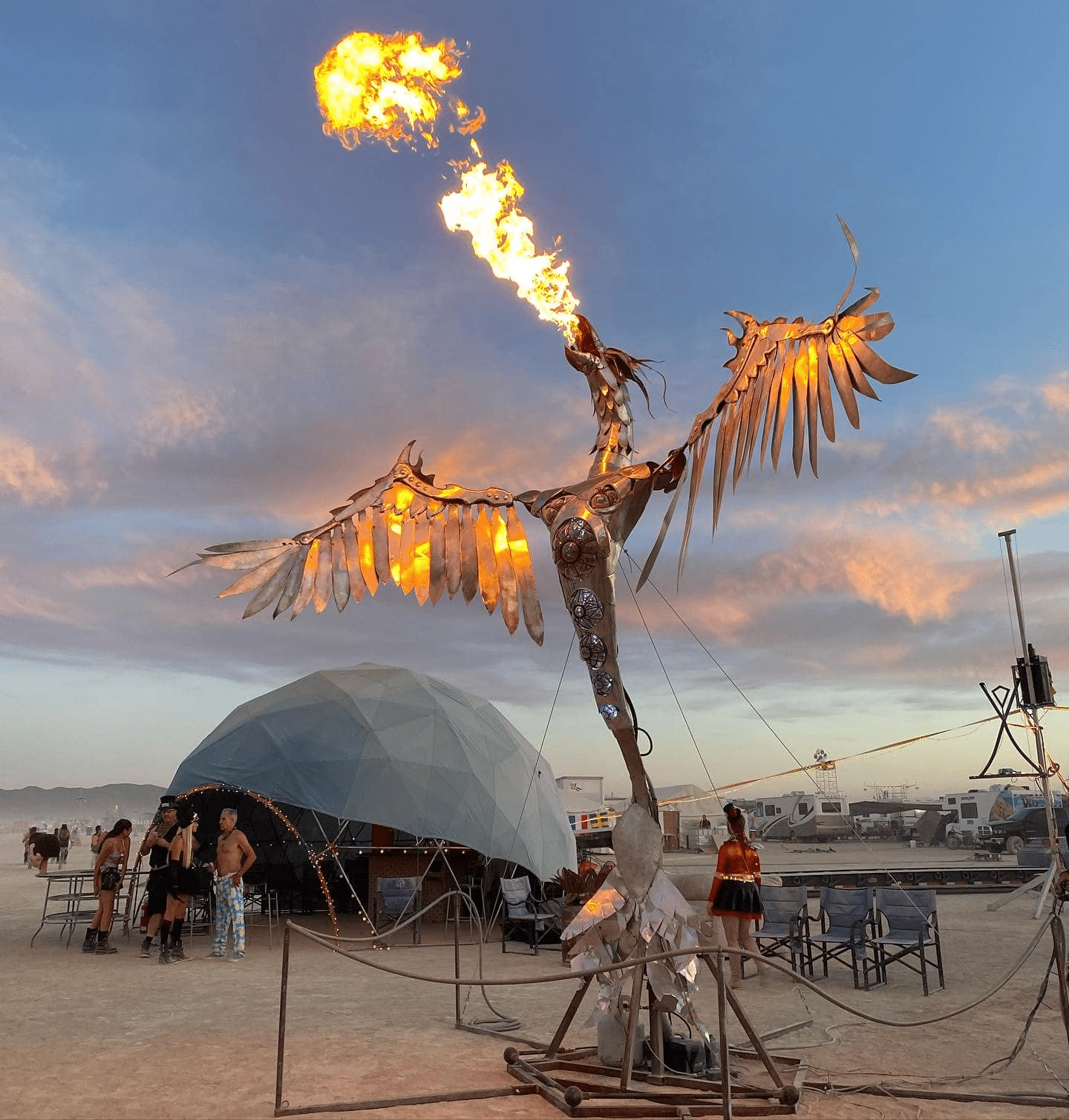 Art of Sean T French
Art A Flame is the collaboration of the Art of Sean T French (@seantfrench https://artofseantfrench) and Fire performance artists. Metal & Fire sculptor Sean T French has created dozens of pieces in a unique style derived from a previous career as a historical armorer and a classical art education. Using ancient techniques and forming and casting, French's pieces all have stories to tell that often explore the metaphors associated with armor in art. After realizing no interest in glorifying battle an underlying theme in all his work is that we all build and wear our own metaphorical armor.
"The FeNyx" is a Phoenix representing the return of the PHX area artists after covid, (see https://artofseantfrench/the-fenyx for more info). Designed by French, a collaboration with Mikey Butzine (blown glass), Michelle Meyer,(base design and construction) and Cody Hunt (internal lighting design), this piece has been to Burning Man 2022 and Love Burn 2023 as well as two Art of Sean T French events, Walter Where? House Gallery and many other events around AZ. "The FeNyx" was in need of a new fire system and wing actuation which we will premiere at Apogaea 2023.
The "WOMANTIS 2" is a solo piece by Sean T French, the second version of a piece French first built a couple years ago and also has displayed at Burning Man 2022 and Love Burn 2023. A four legged, part Mantis, part woman, this creature is angry. Ready to breath fire the WOMANTIS2 has new, longer legs and neck as well as new mechanized head movement with actuators and a completely new, larger fire system and new battery power. The third sculpture is "Accent". She is a female strength figure in a moment of control. This piece not only shoots a large flame but blasts out a loud trumpet sound as an additional expression of elation. All the pieces feature French's metal work, forming and casting and are polished to a high shine.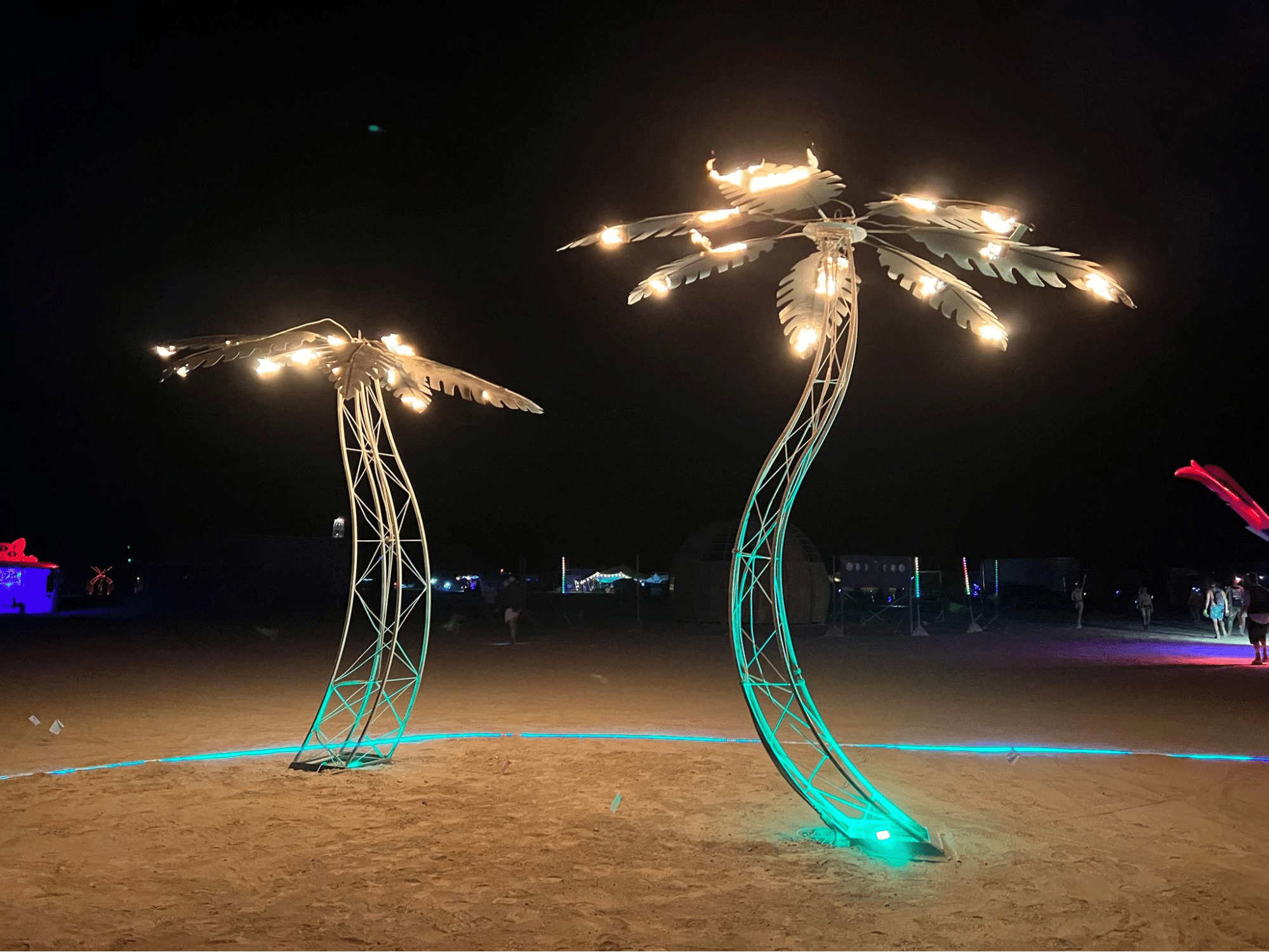 Carlos Vallejo
Two 12′ Palm trees with static and interactive flame effects, bringing warmth, inspiration, and excitement.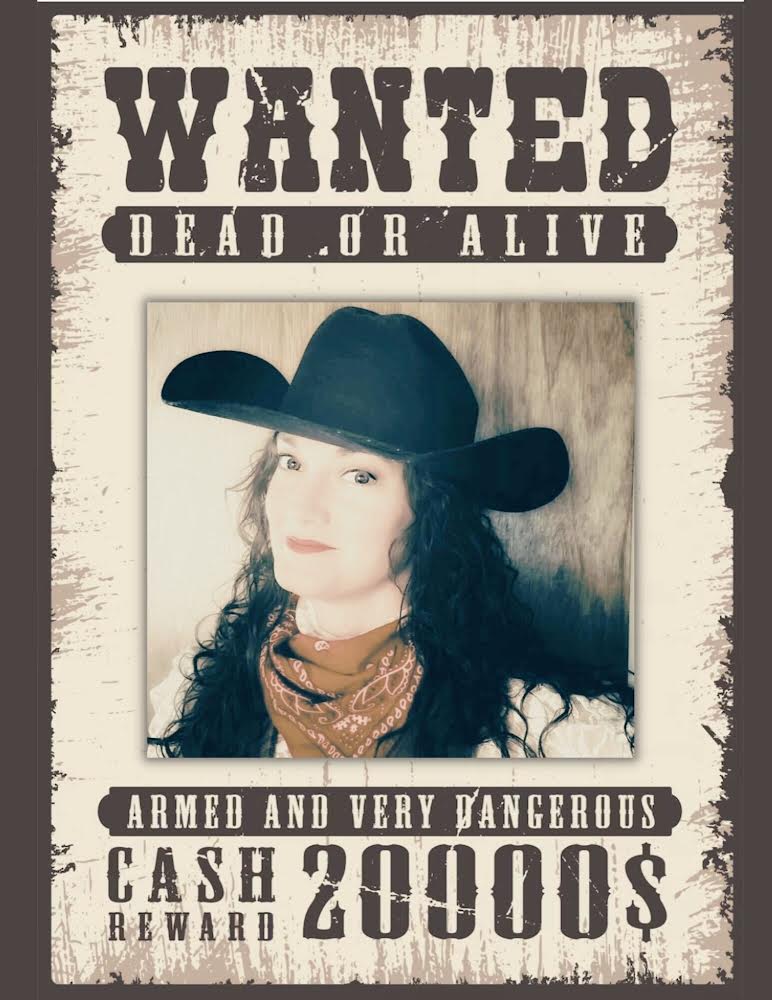 If yer looking for a mighty good hootenanny, come wander down yonder to the ol' Confetti Western Saloon. Paint yer nose with some of that mule skinner and get ready for a hog killin' time. There'll be antics, theatrics, and semantics. There'll be temptations, incantations, and libations. Canoodle with Kissin' Kate and her wild west posse and enjoy yourself a circus shabang like none you've seen this side of the Mississippi.
Fortune knocks at every man's door once in a life, but in a good many cases, the man is in a neighboring saloon and does not hear her. -Mark Twain
Confetti Western is variety show and saloon experience, produced by the Fractal Circus.