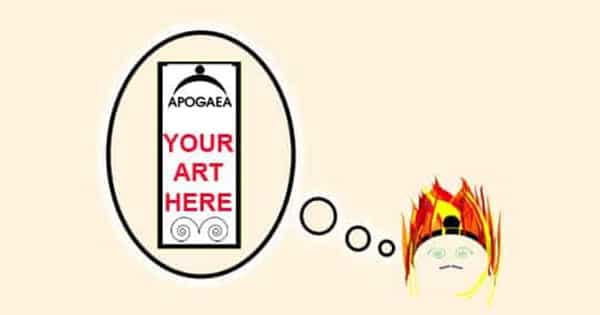 As the 2016 Apogaea theme closes, the ticket art contest opens! But first, the winner of the theme contest:
---
The winner of the 2016 Apogaea Theme contest is:
Moist
submitted by Tater Zoid
---
The 2016 Apogaea Ticket art contest is now 

CLOSED
The deadline for ticket art submissions was February 7th at 11:59pm. Ignition will vote on designs until February 14th. The winner is guaranteed one full-price ticket to the 2016 event. 
Art Guidelines:
Content:
File formats should be TIFF, EPS, PDF, or HIGH QUALITY JPG files.
Resolution should be at least 200dpi. We prefer higher resolution (300dpi).
Submissions will be judged based on concept, execution, and image quality.
Ticket design size: Please download the templates below for correct sizing.
Ticket design must include:
The name of the event, "Apogaea"
The Apogaea Logo, which you can download below in JPG format
This year's theme name, "Moist"
Dates of the event: 

June 9th-12th, 2016
PLEASE NOTE: It is very important to stay within the developing guidelines. Pulling images off the internet is usually not a good idea. Not only are those images usually lower quality images, but doing so without permission from the original artist is bad bacon. Copyrighted images are not accepted. 
Templates and Files