We are proud to announce the winners of the Ludicrous Creative Grant Round!
The total amount of funds available for the Ludicrous Round was $30,000 with a whopping $157,397.86 fund requested from 41 applications! The average grant request was $3,828.97 and only 5 grants for this round were awarded. The average award was $5,500 which, after everything's added up, totaled $27,500.
Below is a breakdown of the number of requested grants in each category of art:
Effigy: 2
Temple: 5
Stand-alone Installation: 21
Theme/Sound Camp: 8
Center Camp Installation/Workshop: 0
Performance Art: 2
Art Car/Mutant Vehicle: 3
Workshop: 0
TIP FOR WINNING A CREATIVE GRANT
More than half of the applications were submitted within 24 hours of the deadline! YIKES! If you're going to submit an art grant for any round, we can't stress enough the importance of not waiting until the last minute.
The sooner you submit your application, the sooner you're assigned an art committee liaison. These liaisons are here to help answer questions and refine your application you so have the very best chance of getting that art grant for your project.
LUDICROUS ROUND CREATIVE GRANT WINNERS:
Without further ado, we are excited to introduce the Ludicrous Round Winners and provide a brief description of their art. If you are interested in obtaining information on how you can help with these art projects, keep an eye out on our website for art projects that need your help.
EFFIGY: The Throne of the Emergent Multitude – Kenyon Sky Dellecave
The Emergent Multitude will be a wooden structure consisting of a 5-sided seating area, an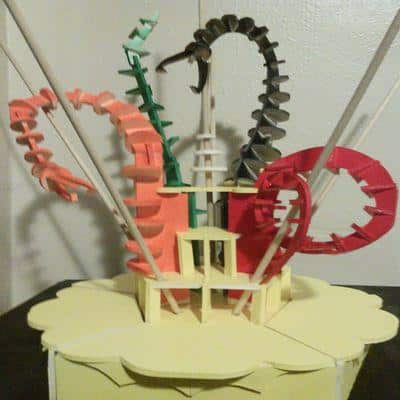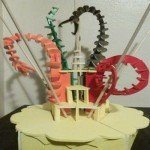 elevated perch and 5 tentacle monsters of various forms emerging from the center column to a height of approximately 16 ft. 5 flaming spires, and a central poofer encircle the top of the structure to an elevation of 20 or more feet. It will function as a gathering place and resting spot as well as an artistic expression. Those who sit under its "tentacly" canopy will be rewarded with a space like no other.
»Support the project by contributing to the Indiegogo campaign
»Participate in the build by following the project on Facebook
The Temple of Infinite Life – Jeremy DePinto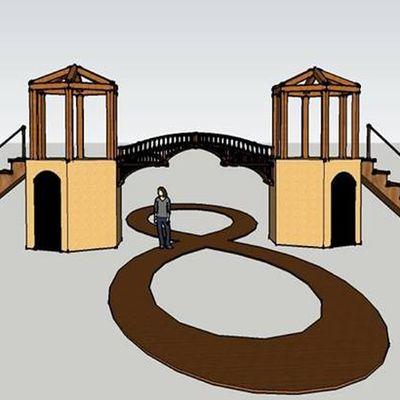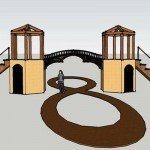 The Temple of Infinite Life will enlighten all Apogaeans and honor those we have lost. It will fulfill your spiritual needs while delighting your adventurous and primal side. The structure consists of 2 towers with both an upper and lower chamber, seating, a rainbow bridge and an 84′ life path with fire and water elements. We plan to burn the temple if there is no burn ban. We encourage you to bring environmentally safe-to-burn items to be placed on one of 2 alters as offerings. The burn ceremony will include an ark with locks of Jenny Kush's hair in a box to honor her wishes (to be cremated). In the event of a burn ban, we will have an alternate ceremony with performers, lights and lasers.
»Check out the Facebook page for more information
Robot Resurrection – Shane Evans
The Robot Resurrection is a 30' towering Robot sculpture made of recycled metal. It has fully articulating, arms, head, and hands, lasers shooting out of its eyes, smoke billowing from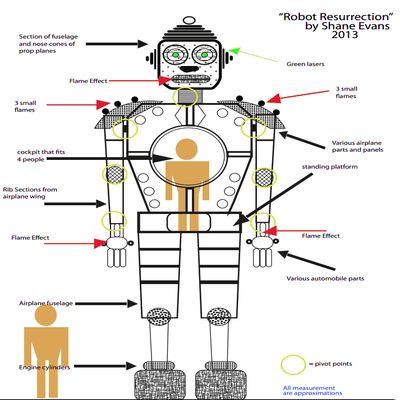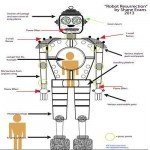 every joint, and holds the power of fire within its hands. It has the ability to move, but only if it wants to. It will perform an amazing light show and be lit all 360 degrees around it's body and will house a small sound system.
The Robot Resurrection was born from what we as a society have discarded. Shane's hope is that this 30' Robot will inspire reflection upon oneself, and be a reminder of the power we all hold. He also hopes it awakens some awareness of our situation and encourages some small change on a small scale that leads to big change in the massive system. The Robot will be a powerful mind blowing sight. It will be unlike anything ever witnessed at Apogaea.
»Follow the project on Facebook 
Lumenexus – John English and Kevin McWilliams
The Lumenexus is an interactive electronic sculpture based on minimal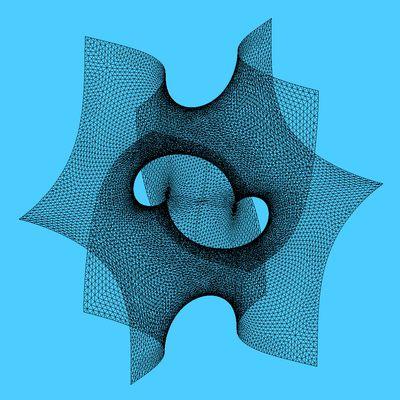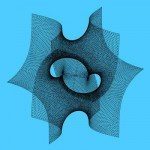 surface geometry made with electronic cells that create light and sound. The piece fills a five foot wide cube, and has an evocative shape based on minimal surface geometry.
Participants' movement and sounds will excite interactive patterns of light and sound that propagate across the cells, creating a playful and surreal experience. Its physical form is composed of many "cells" that link together to form the complete object. Half of the cells contain circuit boards, and each circuit board has a set of LEDs, a speaker, a microphone, and small processor. Each circuit board is connected to its neighbors, so they form a distributed network across the sculpture. The cells will behave as cellular-automata, with complex patterns emerging from simple rules. The electronics system can be programmed to behave in many different ways as well.
Enlighten – Jeff and Kira Sadler
Enlighten is a combination of metal sculpture and propane fire art. A steel lotus flower sits in the center of 8 computer controlled propane poofers, which will ignite in a display of fire 6 to 8 times each night.
The lotus flower will be approximately nine feet wide and four feet tall; the petals placed to reveal the center where at night, a small propane flame will glow, illuminating the piece. The lotus will be constructed entirely of recycled materials – primarily made of tin and steel cans spot welded together forming many four foot petals and ultimately a large flower. Each petal will be painted a light purple with a glitter clear coat finish to catch the light.
Eight poofers spaced approximately twenty feet apart will form a straight line on either side of the lotus, four on each side. A custom designed computer program will allow us to put on fire shows each night of Apogaea. With the exception of burn night, we plan to have fire shows every half hour from 9:00pm until midnight. We hope that the combination of fire shows with an art piece will captivate the community and draw crowds to watch every night. We aim to have everyone at Apogaea experience at least one of our fire shows.