Directions
Location: Valdez, Colorado, approximately 3.5 hours south of Denver and about 45 minutes from Raton, NM.
Print a copy of these directions before you leave for your trip. Your GPS will do it wrong and probably will not work outside Trinidad.
Preferred Route: Interstate 25 to Exit 13B is the preferred route because it avoids a residential area. The following directions will bring you through town so you'll pass stores for things like food and fuel, plus this route can be followed on the way back to northbound I-25.
Local stops: Our friend Alixx Rose offered some recommendations on where to make some last minute stops! "There's a local brewery you can get awesome growlers at called Dodgeton Creek, or costume stuff at Shirley's Thrift. Coffee & knick knacks from the Crazy Raven, and there's nine rec shops in town, but Faragosi Farms is my favorite & gives 30% off to med card holders. If you're stopping for food Bella Luna, Nana & Nano's are awesome lunch spots also on Main St. Tees me Treat me has fudge & snacks & knick knacks too!"
Recommended commercial truck route for ALL Apogaea traffic
From Denver:
I-25 South (from Denver area)
Take Exit 13 B (Main St.)
Turn Left onto W Main St.
Turn Left onto Nevada/Santa Fe Trail
Enter roundabout and exit onto University St.
Turn Left onto Prospect St.
Prospect St. Turns Right and becomes Stonewall Ave.
Turn Left onto San Juan St.
San Juan St. turns Right and becomes Robinson Ave.
Robinson Ave. Becomes CO­12 W
CO­12 W to Valdez / Segundo. Drive 13 miles.
Turn Left onto County Road 47.7 (Just before the closed corner store / gas station)
Cross the bridge and look for signs to Apogaea at the next intersection
And last but not least, here is an image of the intersection and the roads you should be looking for signs on, after you cross the bridge:


From other points:
Please use the following locations and record your instructions as GPS likely will NOT work.
The nearest commercial address where county road 47.7 intersects CO-12 W:
24638 CO-12, Trinidad, CO 81082
The exact GPS coordinates of the Apogaea Entrance:
37.122246, -104.708269
Please note the preferred Exit 13B to avoid residential areas.
Safe & Happy Travels!
---
Placement Map
CLICK HERE to view the camp & art placement map!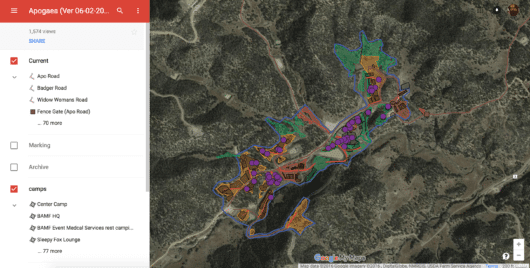 ---
The Locals
Local law enforcement is aware of our presence and will be actively ticketing speeders coming to and leaving from the event.  Do not become a statistic.
Consider supporting the local economy whenever possible.  Get gas and other supplies in Trinidad if you can.
---
Secure Your Load!
Loading your vehicle properly , whether it is a car, truck, motor home, or anything being towed will make your trip to and from Apogaea safer and less stressful.  Here are some precautions the help make your load safe:
Do not exceed the load or towing capacity of vehicle or trailer.
Do not exceed the weight recommendations for the trailer and hitch.
Load your vehicle safely.  Heavy items should be located low, centered and over or between the axles.  For trailers, load the heaviest items toward the front.
Secure your load.
Make sure that the brakes and lights work.
Always use safety chains.
Do not overload the roof.