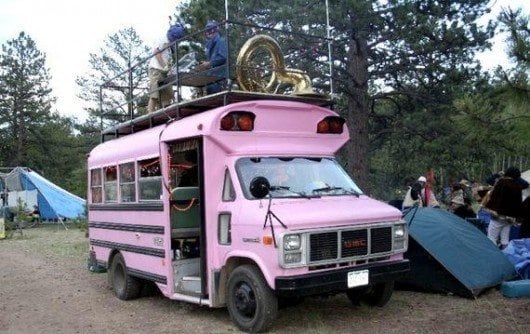 Do you have a theme camp, sound camp, art installation, or fire art?
Do you have a RV, trailer, or large vehicle?
Do you have an art car or mutant vehicle?
Do you have an event you want in the WhoWhatWhenWhere (WWWW) Guide?
Do you want to perform or hold a workshop in Center Camp?
Do you  have a stationary laser?
Do you have a drone?
Then you need to REGISTER WITH US!
---
Why do you need to register?
Registration ensures that we can accommodate your space, location, activity requirements, and special needs.  Please be aware that submitting a registration form does not automatically grant you space or permission to do everything you propose.  The event staff will review your submission and contact you to discuss allotted space, placement, and allowable activities.
If you don't register and your project can't be safely installed and used, Apogaea reserves the right to remove it!
---
Registration for Placement, Sound, Generators, Fire and Special Needs:
Bringing a Theme Camp to Apogaea? or Art? or Sound? or FIRE? Do you want a space on the Placement Map? Do you have special needs that need to be addressed?  Registration ensures that we can accommodate your needs, space, location, and activity requirements. It also ensures you will be allowed to 'play' and bring your desired fiery or loud things. When you don't register for placement, space is first come-first served.
Theme Camps that want frontage on the roads or map inclusion
Sound that travels beyond its immediate vicinity
Art Installations wanting placement help or map inclusion
Performance Art
Any camp seeking help with placement
Attendees with generators, fire, or special needs should contact BAMF directly at BAMF@apogaea.com.
You can also access the theme camp Ticket Allocation Program (TAP) request form, which offers a limited amount of directed tickets for theme camp leaders and build teams.
These TAP requests are due by 

April 18th

 (

11:59 p.m.

)
Theme camp Ticket decisions made, and codes to buy tickets go out 

April 25th

Last day to buy theme camp ticket

April 30th(11:59 p.m.)
»Click here for more information on Theme Camps and Sound Camps
---
Registration for Vehicles:
If you're looking for a space with easy access for your RV or trailer, register your vehicle! All vehicles remaining on the main event site and not parked in the external lots are required to have a vehicle permit. A vehicle permit can be registered online before the event  or at the placement tent when arriving on-site. The following types of vehicles are allowed:
Camping – Vehicles used for regular sleeping in place of a tent. These include vans, RVs, trailers, and passenger cars that can be adjusted to accommodate a sleeping area.
Infrastructure – Vehicles required for the operation of an art, theme, or sound contribution being provided to the community.
Apogaea – Vehicles associated with a department and having a specific operational function during the event including maintenance, emergency, shuttles, and board members.
Art cars / mutant vehicles(requires additional registration, see next section titled Registration for Art Cars / Mutant Vehicles)
»More info on vehicle registration 
---
Registration for Art Cars / Mutant Vehicles
You must register your art car/mutant vehicle TWICE: FIRST at the Register link below, and SECOND at the Google Form link below to register it as an eligible art car to drive onsite! You must do BOTH or your registration will be incomplete. You must ALSO bring a signed copy of the Liability Release Form with you to the gate.
Registration deadline for art cars and mutant vehicles is May 31st, 2017!
Mutant vehicles will fall into two categories, large and small. Small vehicles will be based on golf carts/atvs/quads, etc., and large vehicles will be based on cars/trucks etc., and be subject to additional safety requirements.
All drivers must fill out a Liability Release Form (to be handed in at the Gate when you arrive)
All mutant vehicles will be required to pre register and list all drivers and contact data (camp, how to contact, etc.) All mutant vehicles will remain static during daylight hours, and will only be permitted to move at night, while fully illuminated. Large vehicles will require a spotter at all times, and the spotter and driver will be required to have radio contact.
No mutant vehicles will be permitted to have flame effects(see 2016 Rules of Operation)
The turnaround points will be in the large flat areas indicated on the map, near the gas wells. The proximity of the wells is unfortunate, but they are the most appropriate turn around points. Large vehicles are required to use spotters when turning, and all are prohibited from getting within 15 feet of the equipment.
All mutant vehicles will be operated sober.
All mutant vehicles will remain parked and immobile in the Mutant Gallery when not authorized to move.
»More info on Art Cars / Mutant Vehicles
Registration for WhoWhatWhenWhere (WWWW):
It doesn't matter how you mix 'em, there's a whole lot of W's out there, and the WhoWhatWhenWhere Guide is here to help you find 'em all: events, art, and camps.
Want to be included in the mix?  Register your 'happening' by the deadline!
 >>Click here for more info on the WWWW
---
Center Camp Performances:
Center Camp is the central hub for Apogaea. Located near the effigy, you can learn more about the Ten Principles, grab a piping hot cup of coffee, purchase ice, sit back and groove to some live music, participate in a workshop, or just mingle with fellow Apogaeans.If you'd like to hold an event at Center Camp, please register directly with Center Camp directly.
>>More information on the Center Camp Performances Art Page
---

Because drones are a thing now
Remote controlled aircraft, helicopters & multicopters (aka UAV, UAS, or Drones) are becoming more and more popular at Apogaea.The policy is meant to find a balance between the artist/drone operator while ensuring the safety, consent, and appropriateness of operating a drone at Apogaea.
Burning Man has an existing policy for drones that encompases all RCA (Remote Controlled Aircraft). The Apogaea Drone policy will closely mirror BM Drone Policy as applicable.
2017 Drone Information
Pre-Registration required: Drone Registration form
On-site briefing to obtain tags for operator, transmitter and drone. Tags for Operators (wrist bands), and stickers for transmitters and drones.
RC pilots are financially liable for any harm or damage caused during the event, liability insurance strongly encouraged.
Apogaea video/photography consent policies apply.
No First Person View flying. Line of Sight must be maintained at all times.
Max Altitude is 400', Min altitude is 25'.
Flying over crowds is prohibited and a minimum of 25' horizontal from people not involved with the drone operation.
Flying near emergency, police and fire personnel is prohibited.
Flying is prohibited during any scheduled Temple Ceremonies.
Maintain a distance of 100' from power lines, power poles, and wells.
Spotter to watch for onlookers, etc, required.
Only registered drones are permitted to fly.
Registration can be revoked for duration of the event for unsafe flying or violating Apo Drone Policy, AMA, or FAA rules.
>> For general questions, email mike@apogaea.com
---
Thanks for your help in making this a fun and safe space for our community! It's not easy to play Tetris with over 2,100 people, their camping gear, their art, and their cars.  Our volunteer event staff needs time to figure out how to place all of these things on a small parcel of land that also contains trees, rocks, and slopes – all while creating a harmonious flow to the event.
>>If you have any questions please contact registration@apogaea.com