What is a Theme Camp?
A theme camp is a dedicated space that encourages interaction and creative exchange. Examples of camp offerings include workshops, games, musical performance, dance, theatre, open drum circles, open art projects, massage, tarot reading, manicures, and body painting. Some camps include the gifting of hats, leis, costumes, food or drink, and so forth. It can be elaborately decorated to reflect the "theme," however, it is much more than décor – it is about participation.  The best theme camps take on a life of their own based on the people who wander into it.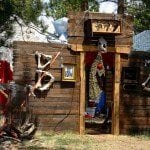 Keep in mind that Apogaea is a gift economy which means that there is NO VENDING allowed, either on a cash or barter system.  All local/state/federal regulations apply at Apogaea, so, for example, if you're serving alcohol, be sure everyone you serve is aged 21+. The Leave no Trace principle must be followed and should be a major consideration in your planning.
Building a theme camp requires imagination, coordination, and, most importantly, a commitment to yourself and others. This commitment extends not only to your camp-mates, but also to the community at large. Sometimes, imagination can outweigh abilities, budgets and schedules, especially for the inexperienced. Please commit only to what you feel confident that you can accomplish. There is always time to expand next year.
You can also access the theme camp Ticket Allocation Program (TAP) request form, which offers a limited amount of directed tickets for theme camp leaders and build teams.
These TAP requests are due by 

April 18th

 (

11:59 p.m.

)
Theme camp Ticket decisions made, and codes to buy tickets go out 

April 25th

Last day to buy theme camp ticket

April 30th(11:59 p.m.)
Make sure you check out the main registration page on our website for details on individual registrationrequirements/rules/etc: http://apogaea.com/the-event/registration/
>>Click here to register your theme camp for 2017

---
What is a Sound Camp?
There are 2 types of intention for having sound at Apogaea:
Large Scale Sound is intended to be the main focus of the camp and generate an environment for dancing. Large Scale Sound is defined as any sound system that requires a generator. These camps would fall under Large, Extra Large and Arena Class Sound Camps

Background Sound is intended to help create a mood or ambiance. These camps would fall under Small and Medium Sound Camps
Even if your focus is large scale sound, we encourage you to create a theme around your music. By creating a themed environment you greatly enhance the experience of the community and ensure that your camp is well-attended.
Please be aware there is limited space for large scale sound camps at the event site. We encourage DJs and bands to work together to consolidate their efforts so everyone can participate.
 »Read the Sound Policies
>> Click here to register your sound camp for 2017

MANDATORY MEETING:
There will be a mandatory meeting for all camps interested in large scale sound to discuss placement and other requirements. All DJs and bands who intend to play at Apogaea are also encouraged to attend. Watch the website and newsletter for the date, time, and location.
Sound Restrictions:
By popular vote from the community and the Apogaea Board, there will be mandatory reduced volume hours and/or quiet hours at the event. Failure to comply with sound restrictions will result in the removal of your sound or power equipment for the duration of the event. Please consider the safety of the community when monitoring your sound levels. Here's a sound exposure guide for your reference.
Renegade Sound:
If you do not pre-register sound that requires a generator, you will not be allowed to bring your sound system in.  We have very limited space at Apogaea this year so we will not have the flexibility to allow Renegade Sound this year.
Do I need to register my Theme/Sound Camp?
Yes!  You need to register your theme/sound camp so we can reserve space for you based on your camp's needs. Especially if you want your camp on the frontage roads. If you do not pre-register your theme camp you run the risk of not being placed.
PLEASE NOTE: there is a limited capacity for sound systems at Apogaea.
Also, NEW this year, for the first time, Apogaea will be directing a small amount of *full-price* tickets to theme camp leads or crew. These tickets will be assigned purchase codes
for our ticketing vendor. These tickets will *not* be available for purchase as part of the general sales, but rather within the directed purchase window (ending Saturday,
April 30th). The basic purpose of this year's inaugural theme camp ticket allocation is to help camps who did not secure enough tickets through other means to still make
their camp happen at Apogaea 2016. We have a very limited amount of theme camp tickets to direct (50), so please keep communal effort in mind, and try not to think of
your camp as an island, but rather a small village among many. We understand that ticket scarcity affects everyone, and our attempt will be focused on helping as many
camps succeed as we can.  See the deadlines for TAP below: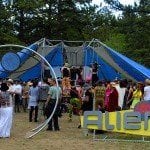 Safety:
Other event participants will explore any area or structure they can access. Private areas should be clearly marked, and dangerous areas or sensitive equipment not intended for public access/ tampering should be physically blocked or guarded at all times.  The event is located in a forested mountain environment with brush, rocks, trees, meadows, and uneven ground.  You must use rebar stakes (with safety caps) to secure your structures.
Generators:
If your theme camp will use a generator, the noise produced by the generator must not exceed our target decibel limits in your area  We will be enforcing enclosed generators if they exceed that noise level.  All generators must be turned off at the request of any Ranger, On-Site Sound Liason, or Apogaea Board member and those found to be in violation will not be turned on again until the noise issue is remedied with better enclosure techniques.
 »Click here for more information on registration
»To learn about getting funding for your project, check out Creative Grants