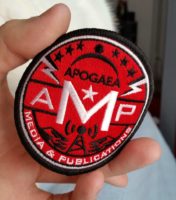 AMP stands for Apogaea Media and Publications department. As department head you'd be overseeing/assisting the photo lead, video lead, Survival Guide lead, Who/What/Where lead and Graphic Designer.
Primary responsibilities:
Evaluating applications for open positions

Making sure all of the leads within the department are on track and things like the Survival Guide and WWWW are published on time.

When the SG and WWWW are finished the dept head needs to work with Telemetry to email blast out to the community.  If other issues arise the dept head is generally responsible for working with Telemetry to write email and facebook announcements.

The dept head works with the board member to do the relatively simple budget for the department.

Helping the Photo Manager as needed, they have the most complex job and often need help with more complex tasks like the volunteer database.

Emails sent to media@ and AMP@ end up in the dept head's email box, you're responsible for making sure they are handled appropriately. It's critical the dept head check their email daily all year round, when an issue comes up the board is going to email you and expect a timely response.

Leads are often new to Apo and the dept head will assist them in navigating the Apo organization since they are more familiar with the full structure.

Generally acting as an intermediary between the board and your leads.

Since this is a department head (ground control) level position it's suggested you attend at least one of the pre-event retreats, most everything else can be done by email.
The ideal applicant:
Has experience working alongside photographers and graphic designers or other creative professionals since that's who you'll be managing.

Has project management or volunteer management experience.

Has familiarity with Apogaea's organizational structure and other departments, this is not a good job for someone new to Ignition.
This department relies heavily on email collaboration. Do not apply for this position unless you can commit to checking your Apogaea email account on a weekly basis year-round during the off season and DAILY in the peak season leading up to the event in June.
>> Send applications to AMP@apogaea.com
This is an unpaid, ground control / department head level Ignition position.  Benefits include voting rights, an awesome department patch, and staff ticket.