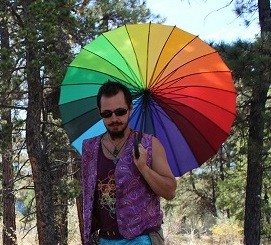 Title: Treasurer
Description: I'm the guy who writes the checks! When your art grant gets approved, when we need emergency ice, when we need to know whether we can afford more propane, I'll be there.
Bio:  I am jorDance! An addict of the crunchiest beats, you will find me on the dance floor when the jams are tastiest.
I was born, did some stuff, and now I'm here. Some of that stuff included playing frisbee, eating breakfast multiple times, giving belly rubs to my dog, and marrying a burner. Apo 2016 was my first, and I liked it so well I thought I'd join up! You will know me by the fact that I look just like me, unless I'm busy blasting rainbows out my fingertips.
See you on the dance floor 🙂
Email: jordance@apogaea.com