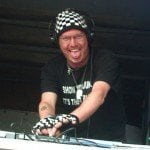 Title: Historian Lead
Description: The purpose and intent of this position is to continue to document and catalog the history and bygone times of Apogaea.  This will be in the form of written informa-tion/files, physical documents, items (maps, stickers, patches, gifts, etc) and oral history (stories, memories documented).  The position requires research and interviews, creative documentation and organization of quantities of information in a usable format.  Starting in 2013, a banner depicting Apogaea's history was displayed in Center Camp which will continue and should be amended for the years 2013, 2014 and 2015 before the next Apogaea. The Historian hosts a "History of Apogaea" storytelling event/workshop at center camp during the event focusing on an oral history by those that were there.
Bio: Schmid-E is one of the original founders of Apogaea and served as a board member and owner for over 5 years in roles such as Vice-President and Secretary. Schmid-E has organized and led numerous events, theme camps such as Luminous Flux in 2011 and regionals for over 15 years and has attended 30 burns (BM and regionals). He is a DJ and founder of Wacky Shack Productions.
Email: schmide@apogaea.com