Title: Board Member, Ticketing & Wristbands Lead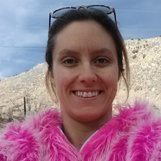 Description:
Board Member – To act as a liaison between department leads and any information that may need attention or guidance from the board. To hold a voting position on the board of directors ensuring that things get dealt with swiftly and in a timely manner creating an outcome that is most beneficial for the org. and the community if need be.
Ticket Lead – I am in charge of working with our ticket vendor to do ticket sales for the event.
Bio: I have been a member of the Apogaea community since 2011. I am part of the sound puddle art team and was treasurer last year.
Email: dana.shier@apogaea.com