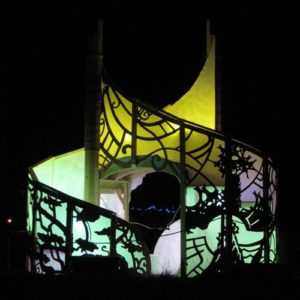 The Temple, like the Effigy, is a special art piece at Apogaea.
The Temple at Apogaea is meant to create a reverent space where participants can meditate, honor what has been lost or gained, go inward, slow down, let go, or whatever other experience can be made of it.  Each temple built has it's own unique space to be encountered.
Temple proposals should be submitted in October prior to the event. If you want to submit a proposal, it's recommended to submit your application in the first round of available 
creative grants
. If multiple applications are received, 
CATS
 will select one for the event. Even if your submission is not selected, there may be an opportunity to build, display, and even burn your piece.
Please read and review all of the creative grant guidelines if you're interested in submitting an proposal.
If you're curious to learn more about the Temple concept and origin, check out this Burning Man article as well as this Temple Guardians article .