Apogaea is Colorado's Regional Burning Man Event
In the spirit of the Burning Man event, Apogaea establishes a temporary autonomous zone where radical self-expression, inclusiveness, and self-reliance are the hallmarks of its participants. Apogaea is your opportunity to create and contribute, experience and evolve, share and accept, work and play.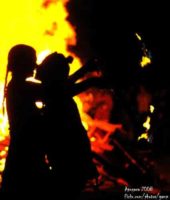 For those who may not make it to Black Rock City this year, consider this your Burning Man family reunion. For those who haven't yet made the journey to Burning Man, this is your opportunity to experience the fully participatory atmosphere of a No Spectators, Leave No Trace event.
Event Dates
The event is held annually in June, usually within the first 2 weekends. There is an EARLY ENTRY day for Ignition Members and Volunteers who've worked hard to earn their way in before the crowds.
Buy Tickets
Every Apogaea participant must have a ticket. From the youngest attendees to the oldest volunteer, everyone must have a ticket.
»Learn all you need to know about tickets 

The Venue
For venue info, driving directions, gate and parking information, as well as information about camping at the venue, hop on over to the
Prepare
We are a community of self-reliant folks. It takes more than a gallon of water and a hoodie to camp in Colorado, and to create intentional space. Make sure you're prepared before you head out to Apogaea.  This includes the REQUIRED READ, the Apo Survival Guide!
Registration
From Theme Camps to Art, projects needing space need to be registered. By doing so, Placement is able to accommodate everything from RVs to Sound Camps. Registration is also required for those needing re-entry as well as an extended exodus.
Event Policies
Unlike huge summer festivals, there are policies for Apogaea participants. Learn what to do and what not to do or refresh your memory.
The Four W's (WWWW)
The Who, What, When, Where Guide (or The Four W's for short) lists event guidelines and contains a listing of art and activities at the event. Print yours up for on-site reference or save the PDF on your mobile device.
Get Involved
One of the 10 Burning Man Principles is Participation!  It's so rewarding to make this baby your own by getting involved.  Learn how you can share your unique skills and talents.