What is the Effigy?
In the tradition of Burning Man, the culmination of Apogaea is an effigy burn. As Apogaea occurs in the mountains of Colorado, we are not always able to burn our effigies. Although we have burned amazing wooden and fabric structures in previous locations, our current location is much drier. In past years, we burned a Phoenix, a Squid, a Volcano, and a free-form structure made up of smaller pieces decorated by the community. In our new location, we cannot have ember-producing fires, so our most recent burn relied on hot air balloon burners that heated three incredibly beautiful metal hearts until they were red-hot. One of the hearts was made of aluminum and melted over the course of the burn. We encourage such creative burn plans to protect our dry and beautiful surroundings.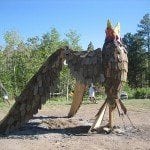 The effigy is a celebration of community. We help build it, gather around it, watch performances involving it, burn it or provide ceremony around it, and dance to its warmth. There are no real parameters to the project except that it be of significant size . Using the event theme is ideal but not required. We really love projects that involve the community on multiple levels.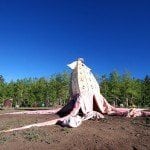 If you are interested in building the effigy, please consider the following: The event population is expected to be over 1,500 participants. Are you prepared to meet the masses as they venture out to see your work? Do you have safeguards in place to account for for user error? Is your project protected from theft or damage? Are there any health hazards or danger to the environment? Can it be properly lit at night so no one damages it or injures themselves on it?
How do I apply to create the effigy?
Effigy proposals should be submitted in the BIG MONEY grant round prior to the event. If you want to submit a proposal, please submit to the BIG MONEY creative grants round. If multiple applications are received, CATS will select one for the event. Even if your submission is not selected, there may be an opportunity to build, display, and even burn your piece.
Effigy grants follow everything described in the Creative Grant Guidelines with only a few exceptions. Please read and understand all of the guidelines if you'd like to submit an proposal.