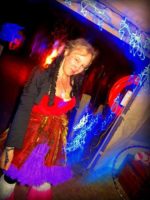 Title: BAMF Credentialing Lead
Description:
Bio: I found this wonderful Colorado Burner community 3 years ago and feel like I found my tribe. I'm a mother of ten children, yes I have as many kids as I have fingers, they are pretty much grown now, I, also have 15 grandchildren. I love art, costume, play, creativity, people who are as off-beat as I am,  and oh did I mention play? My burner name is "DirtyD" one earned long before I had ever even heard of Burning Man. I'm very friendly and can be shy at first or overwhelming, and I guess sometimes I suffer from "bitchy thinking face" please don't let that deter you, I'm very friendly!
Oh and I'm a former nerdette, telecom engineer. An ICU RN of 9 years experience in Medical, Surgical and Cardiac intensive care (I am also a chemo RN) with one year experience as a nurse intern on a busy chemo, med/surg and rehabilitation floor. I hold a minor in Psycology, I'm into accepting all and believe the stigma should be be gone regarding mental health, I'm safe to talk to, please feel free if you need someone to chat with.
Email: DianaChadwick@apogaea.com