"I don't believe this shit!"
I think many of you shared this reaction. In 2011, Apogaea sold out in about 6 weeks. Tickets for Apogaea 2012 sold out in 2 hours and 1 minute.
What does this mean?
Well, it means we as a community have built a kick-ass festival that many, many people would like to attend. It means that following the Burning Man ticket fiasco, lots of folks are turning to regional burns instead of the big event. It means that lots of people are interested in the type of community and event we're building. And unfortunately, it means that some of you did not get tickets.
The Board of Directors has worked hard to grow the festival over the past two years. In 2010-2011, the board performed an extensive land search and ultimately chose to move from Happy Ass Ranch to Fhloston Peak. The new location allowed more opportunity for growth, but required a lot of work. Last year, we worked with the landowner to develop a responsible growth plan and policies to ensure the beautiful location would not be damaged any more than necessary by our festival. The board made land improvements, including BUILDING A ROAD to make the land accessible. Then we all went up to the mountains, threw a kick-ass festival, and after we all left CANO walked the site with the landowner and picked up any remaining garbage. He collected less than one ziploc bag full of MOOP (matter out of place). That's how hard we all rocked it.
This year, the board worked hard to increase the size and capacity of the event. Team Ignition has filled out over the course of the year to provide more leadership roles. The board has moved away from running the event and focused more on policy while letting Ignition members build teams and do the work. The board also carefully considered options for growth and decided to grow the festival responsibly, not allowing the number of attendees to overwhelm the number of volunteers and the facilities (port-a-potties, medical, fire, volunteer support). After much consideration, they arrived at the magic number of 1300. The board also opened up an early entry day, so all volunteers and Ignition members can come in on Wednesday before the event.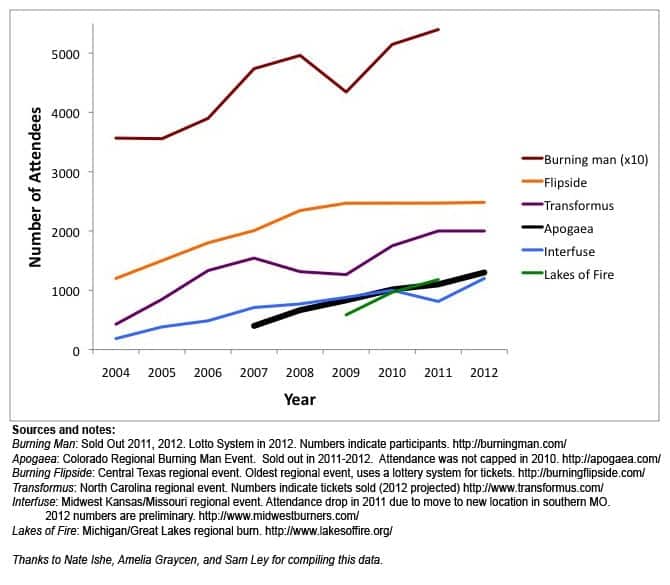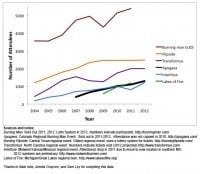 You can see by this graph that Apogaea's growth (as well as that of Burning Man and other regional events) has been linear but the demand has likely been growing exponentially. That means the ticket shortage may be even worse next year unless we come up with some creative solutions.  If you want to help Apogaea grow responsibly, please volunteer (but note that you must already have a ticket in hand), help with the land search, or come up with another way to get involved.
So the Board came up with a plan for responsible growth, but their work wasn't done. After Burning Man royally screwed up their ticketing process, the board spent many hours discussing the best way to conduct ticket sales. In the end, they settled on a first-come-first-served system and announced the date and time of ticket sales a month in advance. The date and time were chosen to minimize conflict with jobs and social activities and the first-come-first served system ensured that those who put in the effort to get prepared got their tickets. Was the system perfect? No, but it was pretty damn good. The server didn't go down, checkout was quick, tickets went on sale exactly when they were advertised, and as far as we can tell, very few scalpers got their dirty little hands on our tickets. I think we owe the Board of Directors, and particularly Guywire who was in charge of ticket sales, a big thank you for their smokin' hot passion and hard work.
If you don't have a ticket
First of all, the board would like to express their sincere sympathy. We truly wish that everybody who wanted to attend could have a ticket, but unfortunately demand has outweighed supply and some people who really want to go and could have made a great contribution will be unable to attend this year.
We recommend looking for a ticket on our Facebook group.  There are lots of active Apogaeans on that group and a community maintained list of people who need tickets titled "I need a ticket – Apogaea 2012."
If you find a ticket for sale, please don't pay over list price for it. If nobody will buy overpriced tickets, scalpers will have no market and will be discouraged.
Please be aware that if you buy a ticket from someone else, they need to call Brown Paper Tickets and change the name associated with that ticket. Make sure they do that before money changes hands, then call yourself and double check! If the name associated with your ticket does not match your ID, you will not be allowed entry. Please, please, please take care of this! None of us wants to turn people away at the gate.
Have hope! Plans change and tickets will become available between now and the event.
If you have an extra ticket
We announced before the sale that tickets could be returned to Brown Paper Tickets and then resold. Unfortunately, BPT has never had to use that feature before and they realized it doesn't actually work. This means you need to sell or gift the ticket yourself.
Please be aware that if you sell a ticket to someone else, you need to call Brown Paper Tickets and get their name associated with that ticket. THIS IS THE TICKET SELLER'S RESPONSIBILITY. If the name on the ticket does not match the person's ID, they will not be allowed entry. Please, please, please take care of this! None of us wants to turn people away at the gate.
Please do not sell tickets above face value. Profiting from ticket sales is against our principles. Nobody should profit from this event.
Don't be afraid to give a ticket away if it feels right. We encourage gifting, just don't forget to change the name linked to the ticket!
Feel free to gift or sell the ticket to your friends, family, and camp mates. But if you don't have someone in mind, check out the list of people who need tickets on the Facebook group.
Please be sensitive to those who did not get tickets and don't accuse them of being irresponsible and unprepared. You can't possibly know what circumstances led them to not getting a ticket.
For more information, check out the ticket FAQ on our website.
Finally, a little note from me, Flaming Art. The community response to this ticket shortage has been overwhelming. You have all stepped up to give credit where credit is due, take responsibility where you can, and be proactive in this difficult circumstance. Give yourself a mirror high five! You deserve it.
Until next time, Flaming Art is putting out.