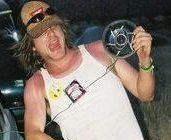 Name: Eric Opela – "Qwack"
Title: Site Ops Assistant Manager/Work Weekend Lead
Email: qwack@apogaea.com
Power, Water, & Fuel Monkey

O.G. Apogaea participant since 2003, Big Burnin' since 2010. Proud to have met a Phamily that loves hugs, getting furry, effed up, and lit up as much as I do. Always volunteering and/or bringing camps to burns, looking forward to getting involved with city infrastructure as DPW. I really do love (almost) all of you!